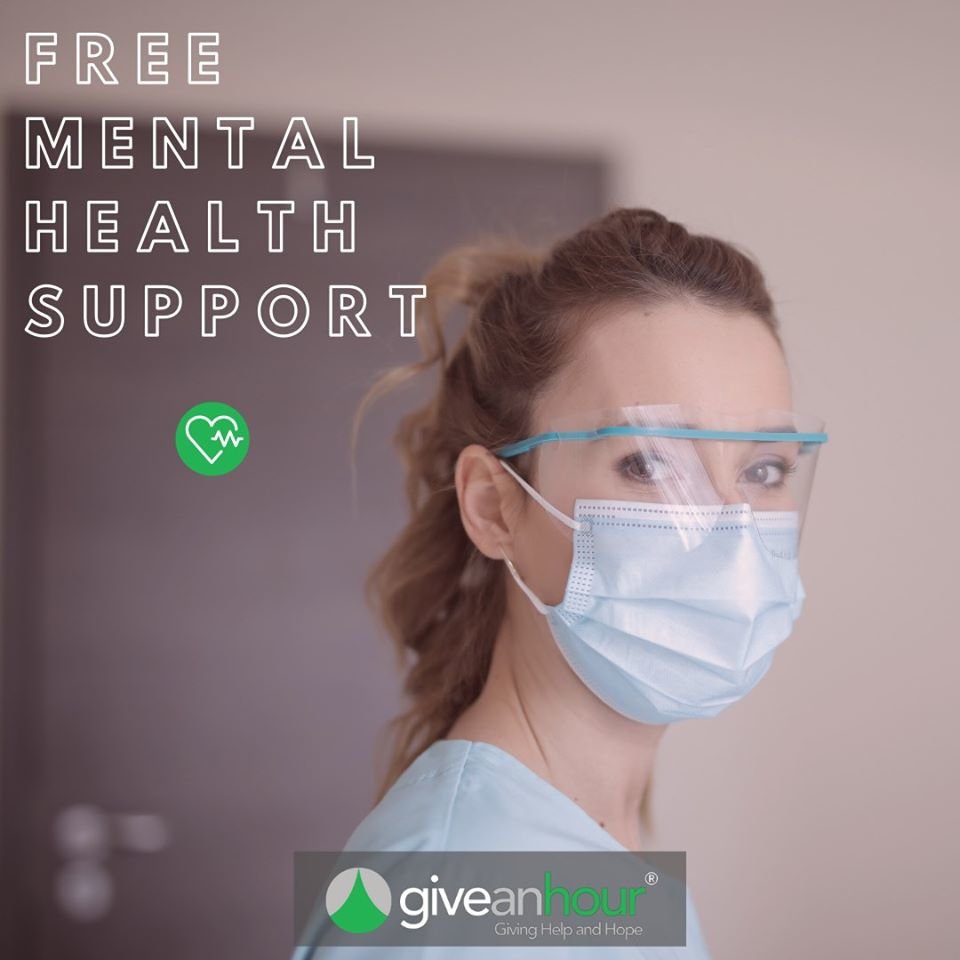 Give an Hour Provides Free Mental Health Services to Frontline Hospital Workers During Covid-19 in New York, New Jersey and Connecticut

Give an Hour, a national nonprofit that provides free mental health services to veterans, servicemembers and their families, has extended its free services to frontline hospital workers who are suffering stress and trauma in the battle against COVID-19. Last month, Give an Hour opened its network of volunteer mental health professionals to these heroic workers in New York, New Jersey and Connecticut.
Due to the COVID-19 pandemic, millions of Americans are experiencing trauma, depression, grief, and anxiety. We know from prior disasters that existing mental health disorders may worsen and that many more people will suffer.
Give an Hour's no cost mental health services will be available to all hospital-based essential employees in the three-state area, including both clinical personnel offering direct care to patients, as well as non-clinical, non-direct care hospital employees. The employee's loved ones qualify as well.

"We have all watched as New York City has become the U.S. epicenter of the COVID-19 crisis. And we have seen a new group of American heroes emerge – frontline hospital personnel," said Randy Phelps, PhD., CEO of Give an Hour.

Give an Hour will provide no-cost counseling to essential hospital-based employees – and their loved ones - both during the pandemic and after to help manage trauma responses in some of the most significantly affected states. It is our hope that with additional support, Give an Hour will be able to extend services to other states.
The Give an Hour Hospital Heroes program welcomes fully licensed providers from all mental health disciplines to join us in NY, NJ and CT. These states have temporarily allowed providers throughout the country to assist in this initiative through telehealth. Give an Hour will also be launching clinician volunteer recruitment efforts throughout health provider networks across the U.S. to fortify its capabilities for the current crisis and the future.
While COVID-19 affects us physically, the stress of this disease is also creating mental trauma, especially to those that are diligently working on the front lines each and every day. The impact of isolation, fear, uncertainty and loss can be just as deadly as the virus itself.

For fifteen years, Give an Hour has provided free and confidential mental health services to another group of heroes servicemembers, veterans, and their loved ones.
Give an Hour is proud to step up for this new group of heroes who are also risking their lives to save others. This is a trying time for all of us, but if we help care for each other we can prevent more suffering and can overcome this crisis together.
If you are a mental health provider and would like to join this effort, please visit:
https://giveanhour.org/hospitalheroes/
If you would like to support this vital program, please donate to our project on GlobalGiving.
Thank you to our GlobalGiving donors who continue to support our efforts during this difficult time.
Links: