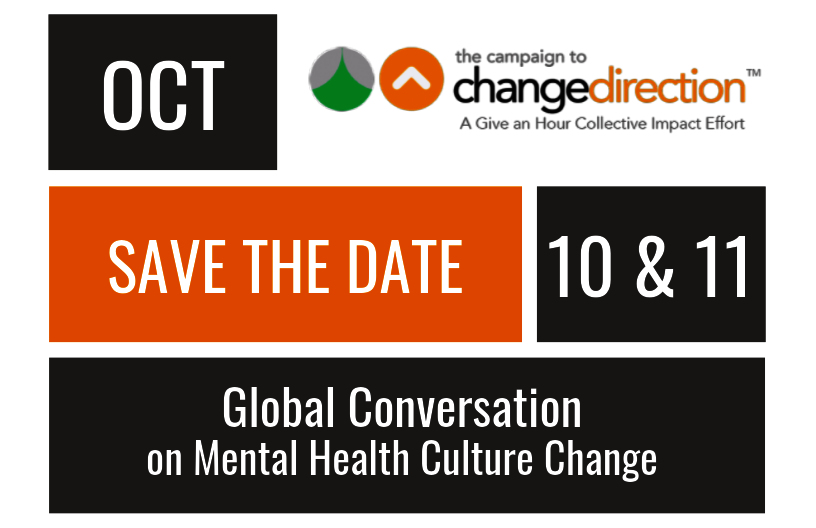 Join us for An Online Global Conversation to Change Mental Health on World Mental Health Day.
The initiative - the "Change Direction Jam" - will bring together individuals and organizations from around the world beginning on October 10-October 11th.
Give an Hour, a national nonprofit that provides free mental health services is spearheading an online initiative on October 10 – 11th called the Change Direction Jam.
Founded by Dr. Barbara Van Dahlen, a psychologist in the Washington, D.C., area, Give an Hour's mission is to develop networks of skill-based volunteer professionals capable of responding to both acute and chronic conditions prevalent within society. Since 2005, the nonprofit organization has provided free mental health services to U.S. service members, veterans, and their families. In 2015, Give an Hour expanded efforts to address the mental health needs of other populations including at-risk teens, survivors of gun violence, and those affected by natural and man-made disasters. Thus far, the U.S. network of 7,000 licensed mental health professionals has provided more than 297,000 hours and support to those in need. Learn more at www.giveanhour.org and www.changedirection.org.
Give an Hour will be using an innovative online platform to invite people from around the world to join an online conversation about changing the culture of mental health. This is a unique and powerful opportunity for in-depth discussions around mental health in a coordinated, data-driven way. Participants will contribute their experiences, their ideas, their perspectives and share their personal stories.
We would like to invite you to join this online Change Direction Jam - bringing together thought leaders, change agents, advocates, policy makers and those with lived experience to share ideas, successes and challenges as we work to change how we think about and respond to mental health challenges, mental illness and substance use disorder.
The goal of the Campaign to Change Direction is to change the culture of mental health so that all of those in need receive the care and support they deserve. The Campaign encourages everyone to pay attention to their emotional well-being – and it reminds us that our emotional well-being is just as important as our physical well-being. We want to ensure that more resources will be devoted to understanding and addressing the mental health conditions that affect 1 in 4 of us.
"We are proud to participate in World Mental health Day by hosting this important world-wide conversation." said Randy Phelps, PhD and CEO Give an Hour. "We want to ensure that more resources will be devoted to understanding and addressing the mental health conditions that affect one in four of us."
The Change Direction Jam inspired public health educational effort dedicated to action, advocacy, culture change and fundraising. We will be discussing important mental health topics: Culture & Access Barriers, Education & Suicide Prevention, Policy, Trauma and Work Environment.
The Jam will showcase leaders from the arts and entertainment industry, mental health professionals, corporate executives, and every day citizens who care about mental health and who want to share their story.
For a list of our hosts, please visit: https://www.changedirection.org/globalconversation/
This is an opportunity to raise our voices together, from the comfort of our own homes, offices or coffee shops to affect change. There's still time to have your voice be heard.
Please register at: http://bit.ly/CDJam2019.
Join us to Change Direction!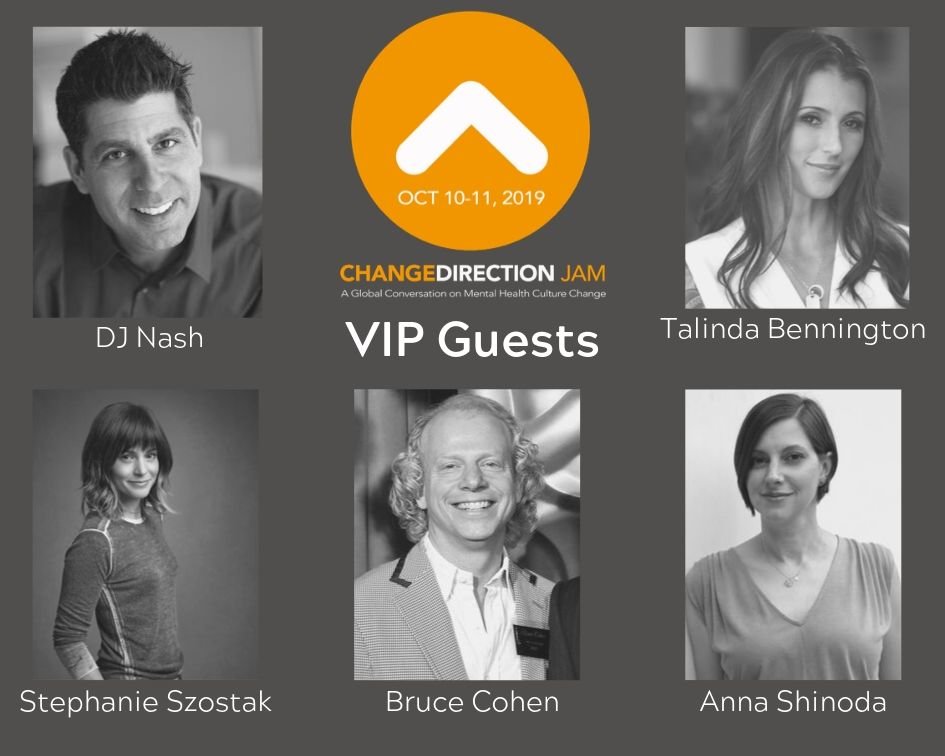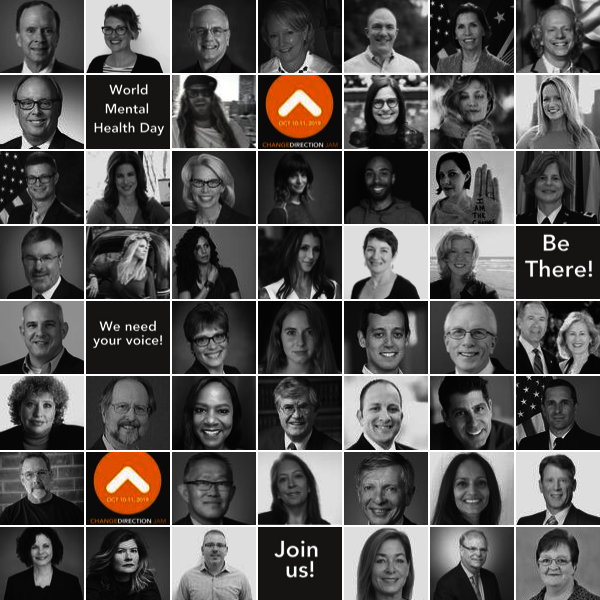 Links: