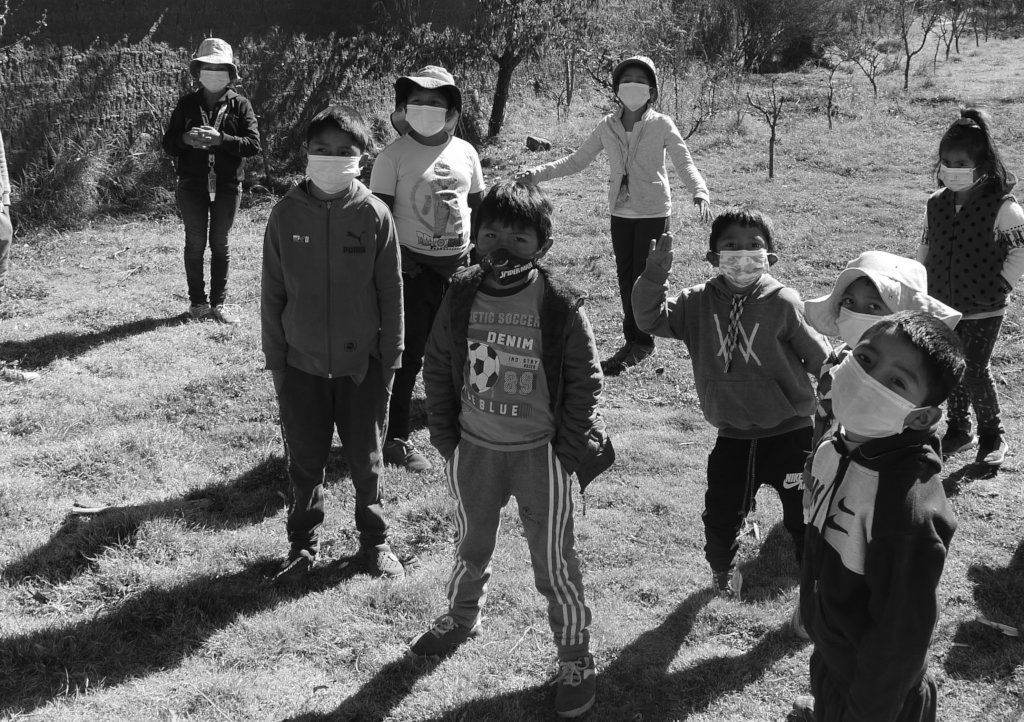 After 15 months of saying, "we hope to be able to open our doors soon," we are so happy to announce: WE ARE OPEN! Monday was our first day of on-site activities since March 2020, and we cannot tell you how overjoyed we are, to welcome back our teachers and children.
A New Location for a Fresh Start
The lease on our previous location came to an end last month, so Picaflor House had to move. It was certainly sad to leave the place we have called home for the last 10 years, but we are excited about this new opportunity. The new property is larger, so gives the kids more space to run around and play, and it means we can expand in the future!
We moved our playground and reinstalled it on the new site, as well as building toilets and creating a covered outdoor area for reading, playing and studying. There's only one building on the property at the moment, but since the Covid-19 restrictions only allow us to operate in outdoor areas anyway, we have time to get that sorted. We have plans to build our own Covid-safe, mobile classrooms (which we will be able to move, along with the playground, should we need to move again in the future) and are currently applying for funding to help us do this.
A Change of Pace
While Covid-19 restrictions still prevent schools from opening, they now allow almost all open-air activities. That means that we can open our outdoor areas, particularly the playpark. We can also offer homework support and some academic activities in our outdoor covered area. In order to ensure the safety of our students and staff, we will be inviting children to attend in small groups (15 at a time) for 1.5 hours at a time. This means that for now, we can welcome 60 of our students back on this reduced schedule. We have been talking to the parents over the last few months to find out what their needs are, and it seems that homework help, and outdoor play are the top needs, but we are using this week to reconnect with the children and work out what schedules and activities will work best.
Claudia* (pictured below), is 7 years old and has spent most of the last 15 months at home, helping in her family's shop. When asked what she thought of the re-opening and the new space,she said, "I am really happy! I think it's a beautiful place to be and I really like the park."
(* Not her real name)
Expanding Our Reach
Jim, our general manager, has been visiting some of the villages around Cusco since April, to find out if the community members feel there is anything they need help with. And the answer we keep getting is EDUCATION. Not only are schools closed, but many families in rural villages don't have internet connections or computers at home, so receiving and handing in schoolwork has been hard. Some villages are tucked into folds in the hillsides, so mobile internet doesn't even reach them!
During conversations with the communities, we came up with the idea of a mobile library. We carried out a test day in May, during which we took books, educational resources and two of our Picaflor ouse tHeam members to two communities one Saturday. The kids were so excited to see us, have the chance to read books and get creative. They told us that they even miss sitting in their classrooms and following their teachers' instructions! The plan is to take books and educational materials to the villages on a regular basis, offer homework support and run academic reinforcement activities, as well as offer art sessions. We are looking for a vehicle now and will hopefully be able to get started soon.
We are so happy to be able to share the great news about Picaflor House and the Mobile Library project with you. As ever, we are so grateful for your continued support; we wouldn't be able to do this without you. We still need help with covering some of the costs of the move, as well as building the new classrooms and setting up the mobile library, so please donate whatever you can.
THANK YOU!
Links: