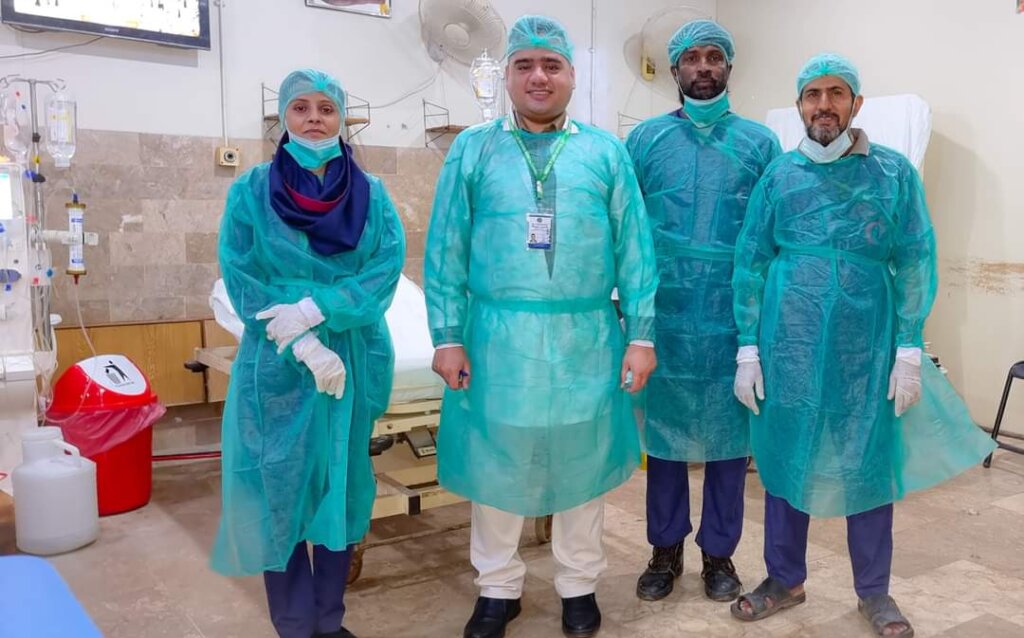 It is a common perception that kidney failure is associated with older age. But we see many young lads suffering from chronic kidney disease at the peak of their youth. Such is the story of Akber, a 29-year-old boy who has lost his kidneys and is living on Dialysis.
Akber belongs to a low-income family in Rahimyarkhan, Punjab. He didn't get the chance to get an education due to his challenging family circumstances. They are three siblings; he and his brother are working hard to earn a living for their family.
He is a cheerful boy, but when he was diagnosed with CKD due to multiple kidney stones, he was devastated. In Rahimyarkhan, he couldn't even find any affordable options for his treatment. His older brother, a fruit seller in Karachi, called him here. In June 2021, he was registered at Al-Mustafa. From then onwards, he gets Dialysis and other treatments at zero cost.
Treatments provided other than Dialysis
At Al-Mustafa Dialysis Unit, we also provide treatments to CKD patients suggested by physicians other than Dialysis. This includes:
Inj. Erythropoietin: Erythropoietin injection is given twice a month to boost red blood cell production.
Iron Therapy: IV Iron supplements to prevent iron deficiency.
Oral Medication: Iron and calcium supplements.
Lab Investigations:

CBC
Urea
Creatinine
Electrolytes
Ca+
Fe+
Refreshments during the session.
Treatment facilities for other active complaints of patients such as infections, fever, etc.
For instance, a few months ago, Akbar contracted a severe chest infection and was admitted to Al-Mustafa Hospital for treatment.
CKD and Hepatitis C
Hepatitis C is one of the most common factors that lead to kidney failure. Many patients at our Dialysis Unit are Hepatitis +ve, and Akbar is one of them. To keep other Hepatitis patients safe, we have dedicated two dialyzers solely to perform Dialysis for such patients.
Past Quarter Progress
October 2022
Dialysis Sessions: 86
Inj. Erythropoietin: 95
Iron therapy: 39
November 2022
Dialysis Sessions: 52
Inj. Erythropoietin: 76
Iron therapy: 32
December 2022
Dialysis Sessions: 58
Inj. Erythropoietin: 83
Iron therapy: 37
January 2023
Dialysis Sessions: 65
Inj. Erythropoietin: 86
Iron therapy: 37