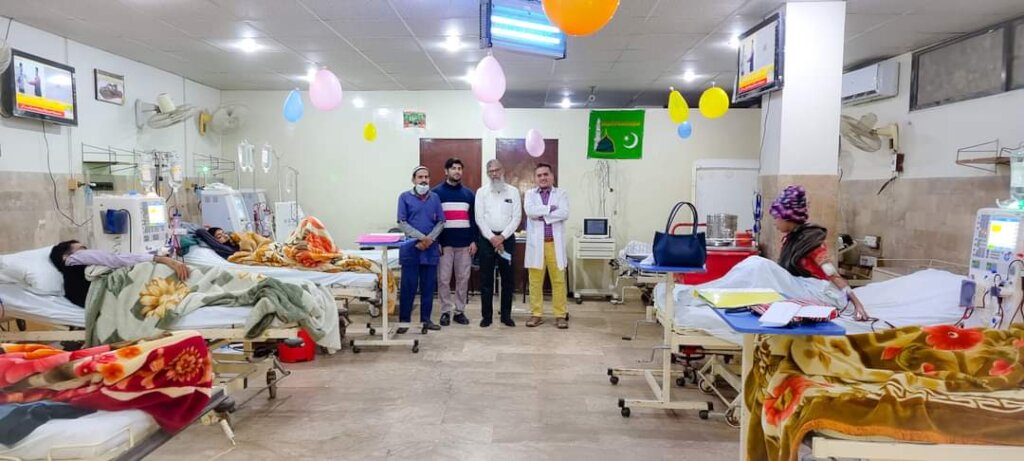 Dear Folks,
Please accept our sincere apologies for reaching out pretty late. The ongoing disaster in Pakistan has shifted our focus to providing immediate relief to flood victims; thus, much of the routine work got a bit delayed.
Dialysis Machines are not ordinary machines not only because of their complex mechanism but because these machines are the hope of life for the patients who have lost their kidneys. Apart from transplantation being so expensive, it is a major surgical procedure and comes with many risks, not everyone gets a match in the first place, and those who do get a match may have to deal with rejection and other complications.
For many reasons, the majority of patients in Pakistan can't get a transplant, and for them, the only hope for a better life is the Dialysis Machine. These machines let the patient live a better and longer life.
At Al-Mustafa Dialysis Unit, the registered patients belong to extremely poor or white-collar families. In these challenging times of inflation, they simply do not have enough resources to support their basic life needs. The expensive Dialysis treatment is a luxury for them. So we take care of their treatment and provide dialysis and other required medications.
A NEW MACHINE FOR NEW PATIENTS
In the past quarter, a new Dialysis Machine made its way to Al-Mustafa Dialysis Unit to serve the increasing number of patients. We have registered 16 new patients so far and many more are expected to be registered soon. The available machines were insufficient to provide services for the increasing number of patients; therefore, a new dialysis machine was purchased and installed urgently.
776 DIALYSIS SESSIONS AND 335 EPOs
In the past quarter, our team has performed 776 Successful Dialysis Sessions, and 335 Erhtropietin Injections were administered. Erythropoietin (EPO) is a naturally occurring hormone produced by kidneys which stimulate the bone marrow to produce Red Blood Cells. In renal failure, the kidneys produce less or no EPO resulting in anaemia. It is an essential and costly drug for CKD patients; poor patients simply cannot afford it.
DIALYSIS PATIENTS' SPECIAL DIET
CKD patients also suffer from the loss of protein. Therefore, our consultants recommend a protein-rich diet for patients or prescribe protein supplements to maintain healthy levels of proteins in the body.