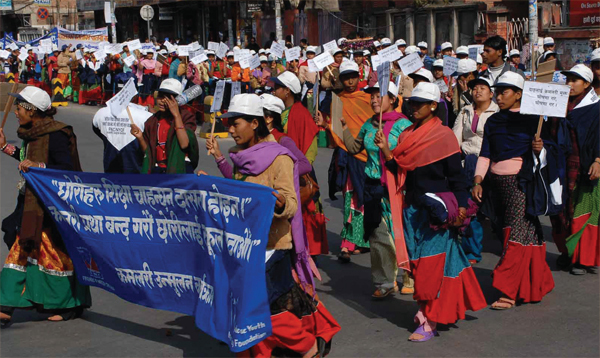 In July, the government of Nepal appropriated 1.6 million DOLLARS to rehabilitate young girls freed from bonded labor. This is an enormous sum in Nepal. It is the culmination of a decade of lobbying by NYOF. The funds may be used for schooling and for vocational training. To my personal delight, and at our suggestion, the funds may also be used to provide housing and an education for bonded children who have no home to return to because they are orphans or their families are homeless.
Throughout the decade since our Indentured Daughters Program started, we have asked the Nepali government not only to enforce its own laws against the bonding of children, but to educate the young girls we have liberated. (See the last story about how a former J House boy helped in this effort.) Except for some actions by local government in the areas where we have been working, the result has been – zilch. Until this year.
March to the Central Government
In February, we brought 400 girls we had previously liberated in western Nepal on a 12 hour bus ride to Kathmandu to focus the attention of the central government on this practice. They marched through the streets of Kathmandu carrying banners, chanting slogans against bonding, and distributing leaflets. We arranged appointments for them to talk with the President, various government ministers, and the UN Human Rights Commission. We believe this high-profile campaign was a major factor in convincing the central government to make its move.
NYOF is the lead organization helping the government to plan and implement its program. We are working closely with various ministries to advise them on the most effective way to use the appropriated funds, and the government has adopted almost all of our suggestions.
This action by the government is an important step in helping us to reach our goal of eradicating this inhumane custom, but by no means the end of the line. It has relieved NYOF of the responsibility of educating the girls after we have liberated them, and as a result, we can use your donations to eradicate the bonding practice itself sooner than we had anticipated. Let me explain.
The government appropriation cannot be used to liberate the girls or to carry out the awareness campaign against bonding that we have been conducting for almost a decade. Thus, NYOF will have to continue to support efforts to identify the parents of bonded girls and convince them not to sell their daughters, and to confront employers to persuade them to release the girls from their contracts. We will also have to provide the piglet or goat that the families receive from NYOF if they agree not to bond their daughters or bring them home from their labors. And we will still have to fund the local anti-bonding clubs, a weekly radio program where girls talk about their suffering when they were in bondage, and to present street dramas against the custom in these largely illiterate communities. Without NYOF's support, there will not be large demonstrations by the liberated girls or lawsuits against employers who refuse to release them from their contracts.
These activities, which are critical to permanently eradicate the custom, must still be supported by NYOF and our donors. Our eradication campaign, including all the elements above, costs approximately $100 for each girl liberated.
Thousands Remain to be Rescued
Next January, during the Maghe Sakrante festival at which the bonding contracts are made, our staff will fan out across the five districts in west Nepal where indentured servitude of little girls is prevalent, to bring our awareness campaign to the towns and villages where we have not had the funds to operate previously. We hope to rescue the thousands of little girls still in the bonding process or prevent them from being contracted away.
When we began to confront this cruel custom in 2000, there was no opposition to bonding away children. Fathers could hardly wait for their daughters to turn seven so that they could be sold for labor. The bus park every January was filled with weeping little girls about to be parted from their families for the first time and to go off they knew not where. Today,the practice is on its last legs in the Dang District, where we have been working since 2000, and it is on its way out in Bardiya, where we brought our campaign a couple of years ago.
But there remain thousands of girls who are the victims of this custom, so there is much left to do. We have an unprecedented window of opportunity to bring the bonding practice to an end. Now we ask your continued help in finally closing this sad chapter in Nepal's history.
We are deeply grateful for your support. Please give as generously as you can, so that we can continue to help kids in Nepal to uncover and develop their full potential. We have a proven track record in making the most of your donations – you can do more good with a dollar in Nepal than almost anywhere else, and we spend a very small percentage of donations on administration (as evidenced by our four-star rating from Charity Navigator). We hope you will help us in our efforts to make a difference in these children's lives.
Please let us know your thoughts by providing feedback in our comments section! Also, please tell your friends, family and colleagues about NYOF's accomplishments!
Warm regards, Olga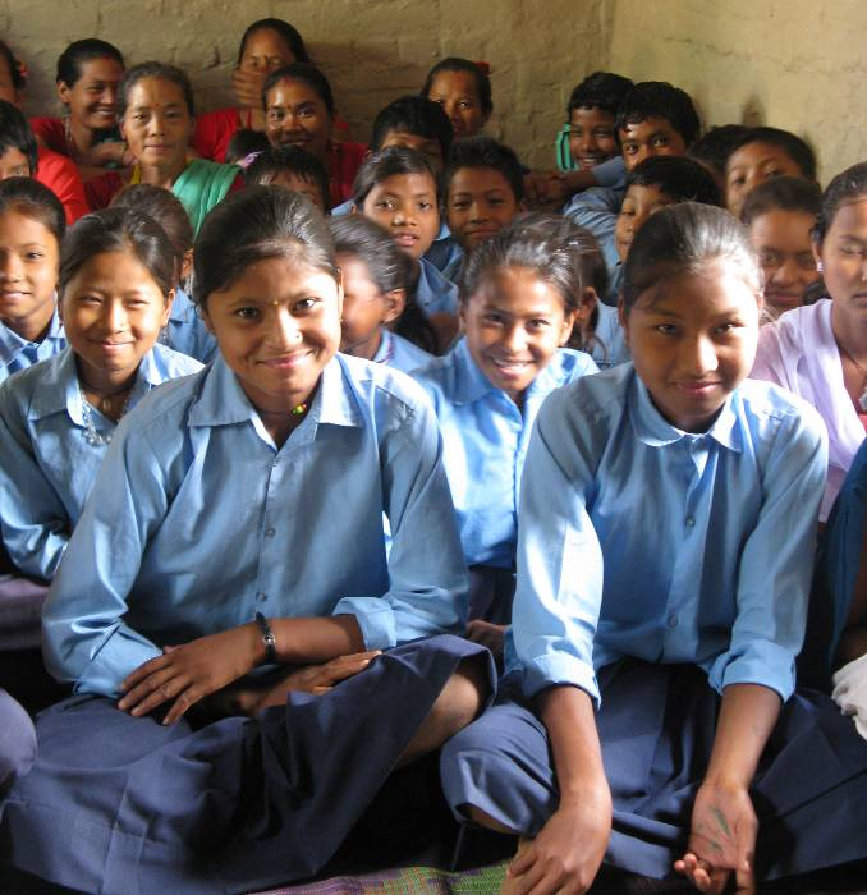 Links: