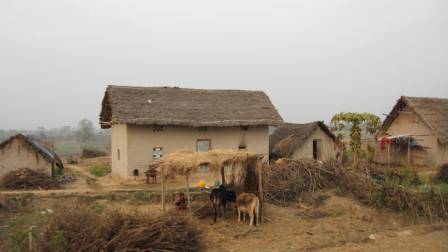 NYOF has had an interesting spring. In April, PBS aired a documentary on the program NOW about our project to free young girls from indentured servitude in west Nepal. They sent over an observant and savvy crew from New York, which did an excellent job in explaining and describing the terrible practice of indenturing young girls as servants. I know that many of you saw the program (if you did not, you can find it at http://www.pbs.org/now/shows/414/video.html). I thought you might be interested in some "behind-the-scenes" events during the filming. The program included the story of Sushila, an 11 year old girl we rescued on camera from her job as a bonded servant, but what went on behind the scenes was just as interesting.
Sushila had been indentured by her father to work as a servant for a family in Kathmandu. Neither she nor her father received any compensation for her services, but the indenturing family promised to provide room and board and send her to school; to their credit, they did so. The PBS crew went to Sushila's home village, where they met the woman who was her employer. She had come to fetch Sushila to return to work for a third year. The employer could have been assigned the role by central casting, so perfectly did she fit it. She vehemently denied that she employed a child servant and went sashaying off down the road, angry at the suggestion. Of course, she returned later, packed up Sushila, and brought her to resume work in Kathmandu.
We contacted Sushila's father and asked if he would allow her to return home, in exchange for which NYOF would provide the family with a piglet or a goat, which they could sell at the end of the year for a profit. In addition, we offered to give her a scholarship to attend school, as we do to for every rescued girl. He agreed, and took the 10 hour bus ride into Kathmandu, where Raju, a member of our staff, met him. Raju had called the employer in advance to tell her about the purpose of their impending visit. But when they arrived at the home where Sushila was working, the employer was not at home. This is where one of the two best scenes in the program occurs – Sushila was called out of the house, saw her father, and was puzzled at first by his presence. But when she learned why he was there, she broke into one of the brightest smiles that ever graced a screen.
The employer arrived a few minutes later, accompanied by a posse of relatives, and a royal row ensued between Raju and the employer and her relatives. Only a few seconds of the argument is in the film. They objected to the cameras, and demanded to know why Raju was picking on them, since Nepal is full of child laborers. Raju replied that we had not singled them out, that we had rescued 3500 girls in Sushila's position, and that they must know child labor is illegal in Nepal. He demanded that she be allowed to go home with her father.
The dispute lasted more than an hour, during which tears coursed down Sushila's face as the adults around her squabbled about her fate. "You see," said the posse, "she is crying because she loves it here and doesn't want to leave." Her father said not a word – he is a poor, uneducated man, and in some aspects Nepal is still a feudal society. It would be unthinkable for him to argue with these rich and educated people, not even in defense of his daughter.
Sushila was finally allowed to depart with her father and Raju. On their way to the bus station to return to their village, they stopped for a bite to eat, and Raju said Sushila could not stop smiling. Then came the other priceless scene: Sushila is on the bus with her father, and when she is asked what she will do now, she says "I'm going to go to school, and I will play, and do work in my own home." In that order! There's a child who knows what's important in her life!
Sushila's story is far from the worst among the children who are bonded away. Many of these little girls are severely abused, since their working conditions are entirely at the discretion of their employers and no one checks to see how they are treated. At least, Sushila was allowed to attend school – a privilege which few of the bonded girls enjoy.
We are on a crusade to rescue all these children and eradicate the bonding custom in Nepal. If you would like to help, what better time to do it than now – as a Mother's Day gift. For $100, you can bring a girl home to live with her family, buy a piglet or a baby goat to compensate them, pay her school expenses for a year and support our terrific awareness program to turn the community against the well-established bonding practice -all in your mother's name. We will tell her about your gift if you give us her address.
If you would like a copy of the program on DVD, we will send one to you free of charge.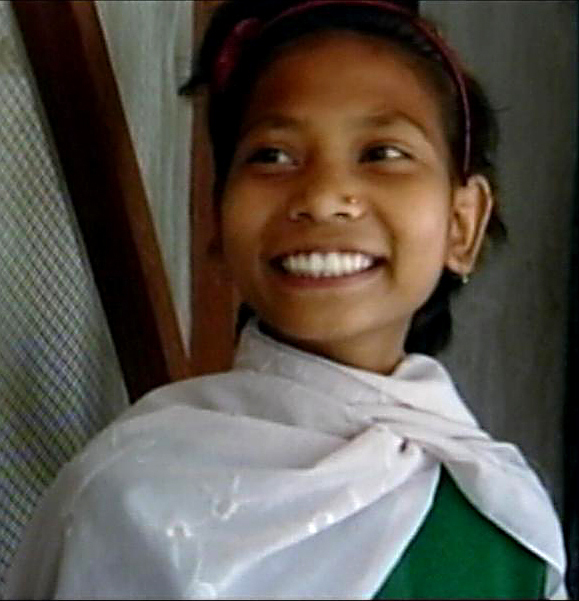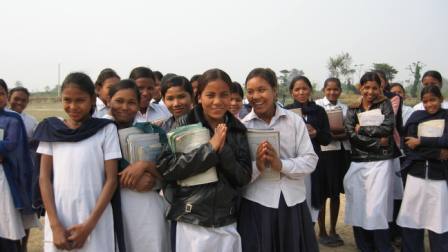 Links: