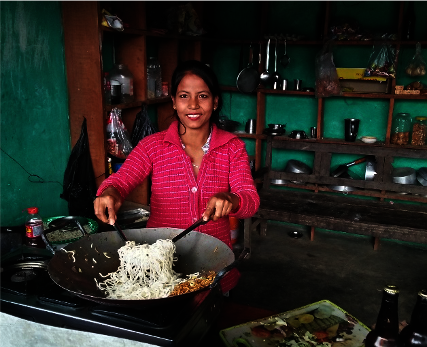 "Priya" is from a remote village in western Nepal and lives in a cottage on a small piece of farmland.
When she was only nine years old, she was sold as a domestic servant to work in the household of a wealthy family. Priya was forced to complete all of the family's household chores, and not allowed to go to school.
Thanks to the help of generous supporters like you, Priya was rescued by NYF when she was 13. And though she went back to school, she was too far behind to catch up with her peers. She worked hard and managed to complete the ninth grade, but left school after she got married.
With no source of income other than what their meager farm can produce, and an extended family of nine people to provide for, her husband left Nepal to look for work.
Desperate to find a way to keep their family together, Priya enrolled in NYF's Vocational Training program, and began taking a "Tea and Snacks-making" class. She completed her training last fall in October, and successfully opened a small business near her home.
Now 22, Priya makes more than enough to support herself and her family. Her husband returned to Nepal from India to help her business, and their two children are even attending a good school nearby.
Thank you so much for helping to make this life-changing work possible. Priya, and so many others like her, are so thankful for your continued support!
Links: