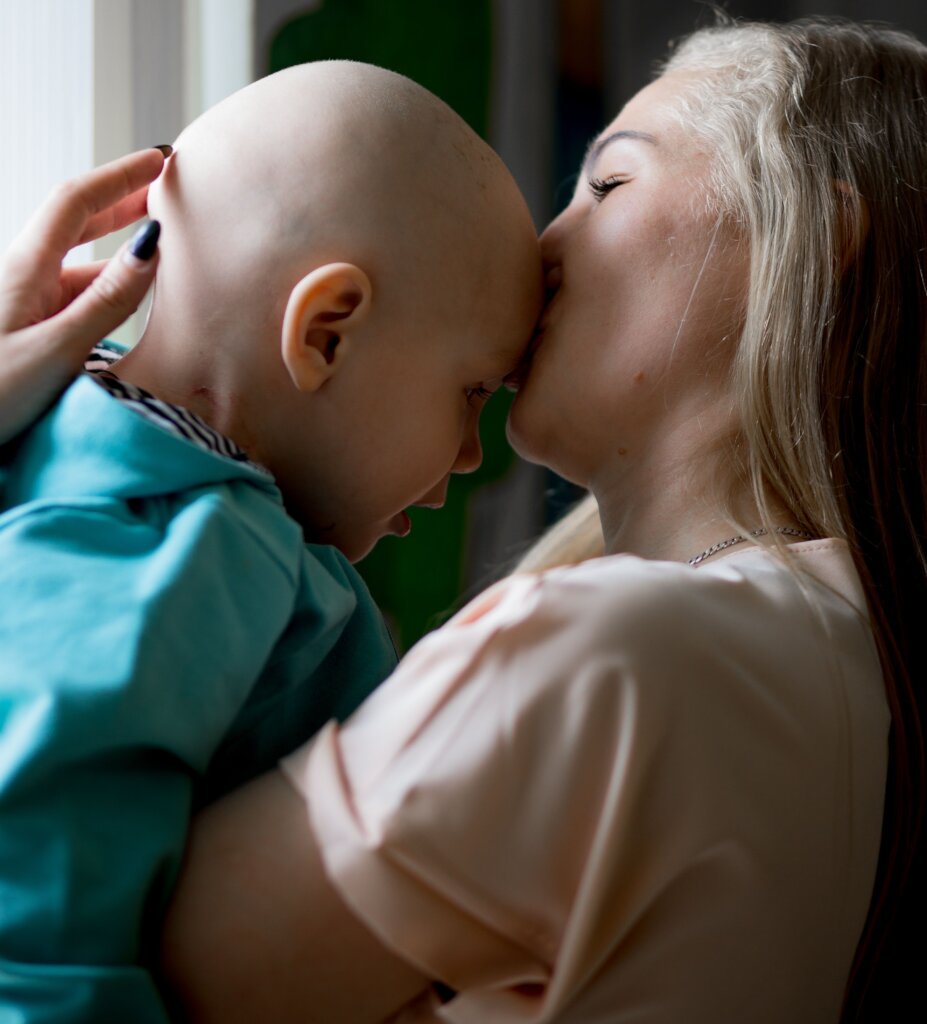 Dear friends,
thank you so much for supporting children with cancer in Ukraine in time of war.
One of these childrenis Mark. He was diagnosed with cancer after February 24, the date that changed the lives of all people in Ukraine.
Mark's mom Sofia tells their story:
"I am Sofia. I am a mother of five children. My daughter Ilona is the eldest. She is 17, an 11th-grade student, preparing to leave school. My other children are all boys, also pupils. I call them "my football team." David has just turned 14 years old. Vania is 9. Saveliy is a first-grader. Mark, the youngest – only two and a half. We are from Kramatorsk, Donetsk Oblast.
Mark's disease struck us out of nowhere. It happened in March. After the beginning of the Russian invasion. Honestly, we were neither ready for the former nor the latter. Of course, no one can be ready for that.
The local hospital didn't have the equipment to examine Mark properly. They took everything away from the war zone. In Kramatorsk, we saw everything – shelling, flying rockets, explosions. We have an airfield near our apartment. In the first days, all the explosions were very close to us. The last blast we witnessed made our neighbors' windows blow out. Ours did not fall apart, they just opened wide. It was very fortunate that the broken glass did not injure anyone.
It was terrifying to stay in our apartment. We quickly moved to my children's godfather, in a village near the city. But bombs hit there, too. Shelling hit four private houses, and they burned to the ground. With people inside. Everyone who lived there died.
Children are terrified of sirens and loud noises nearby. When there is an air alarm, the boys immediately climb under the beds and hide there. Ilona runs to the bathroom. It's an automatic reaction now. Fear is already in their blood.
I got hysterical when the doctors talked about going to Lviv and the possibility of evacuation for treatment abroad. How will I go so far away without taking all of my children with me? The Zaporuka team organizing this evacuation reassured me that we would all be together.
We had two hours to get ready. The children didn't take anything with them. No clothes, no textbooks. We went to Lviv by the evacuation train. Without a nurse, alone. Mark was injected with painkillers, antibiotics, and antipyretics. I don't remember how that day went on the train. It was a trip to "nowhere" for me, with a son in my arms who could die. This thought still chills my mind.
In the hospital in Lviv, the doctors told me there would be no evacuation abroad. Mark wouldn't survive the trip. My boy is currently undergoing the fifth chemo cycle. In a week, there will be the sixth one, the final. Surgery is the next. CT will show what the results are. From the looks of it, Mark is energetic. He is in a good mood. Not at all sluggish, as it was in the beginning. I finally recognize my boy.
We all spent the night in the hospital the first night after arrival. Now all my family lives in the small town of Sokal, not far from Lviv. Zaporuka has rented a house for our family, helps us with food, with everything. I am very grateful to them. They saved me – homeless, with an ill child in my hands.
I believe in the best. I see progress after the chemotherapy. Mark feels much better. I pray to God that the child survives the surgery. I am very worried about this. But I can't afford to show this emotion. He sees everything and reacts to my moods.
I don't want to leave Ukraine. This is our home, our land. Like all of us, I want the war to end sooner... For Mark to get well. This is the most important thing for me. This is my personal front."
Your contributions make it possible to provide accommodation, food and other basic products for kids and their families fleeing the war. Thank you so much for being there for us!