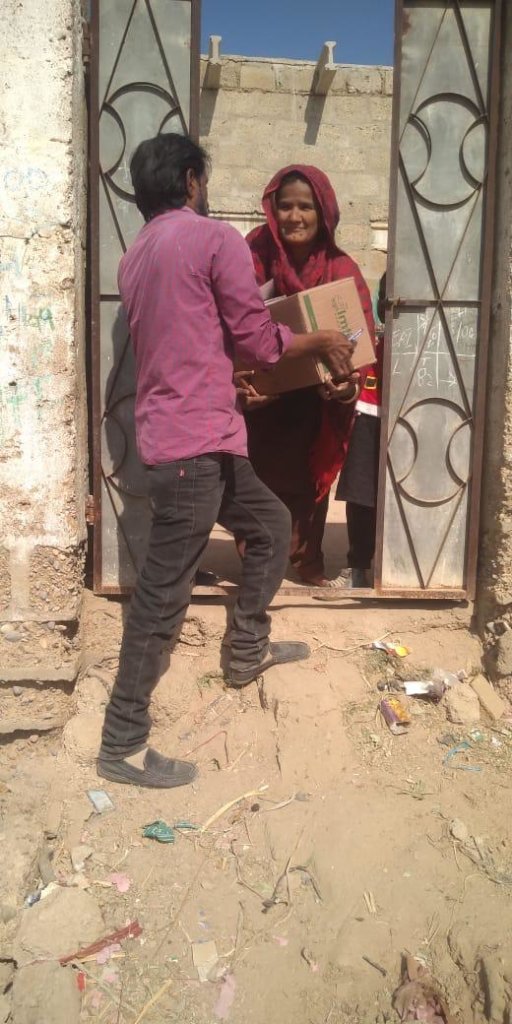 Feeding a hungry family helps them get through difficult times in their lives, transitions. These can include losses of job, death, any uncertainty. As we have been meeting families one by one and speaking to them, their stories can break your heart.
See Aliya (name changed) pictured here. She's a strong pillar of her family, but her pride is no longer preventing her accepting this food ration when she has hungry mouths to feed and no tangible way to do so. She was working as a maid prior to COVID-19 when she lost her job as her bosses did not want to take chances during COVID-19. It's been 18 months and they still have not re-hired. Instead, Delta variant is so strong, we 've had a complete lockdown in Karachi this past week - even grocery stores were not allowed to be opened.
It's easy to judge someone who is not working, but it is something very different to walk in their shoes. Aliya has so much pride, but over the past few months, even that has crumbled. She does not have a computer, let alone wifi, and if she tries to bake (a home business), she doesn't have the capital for the ingredients and her neighbours cannot afford to by. Her mental health is suffering and she has only one angel in this world, which is what she calls this food drive. She says we are like angels gifting her family without something to eat, at a time when otherwise, they are struggling to find reasons to live.
This food rations drive and your contribution is about much more than food, it is about mental health, dignity, and salvation. Thank you!
We have distributed food rations to 5500 families to date, thanks to you! Karachi student volunteers have approached us to personally spearhead this drive to 10,000 families and they have pledged - between the 15 of them - USD 1650. Please help us to match their donations to encourage them and help us scale this project so more and more hungry families can be fed.