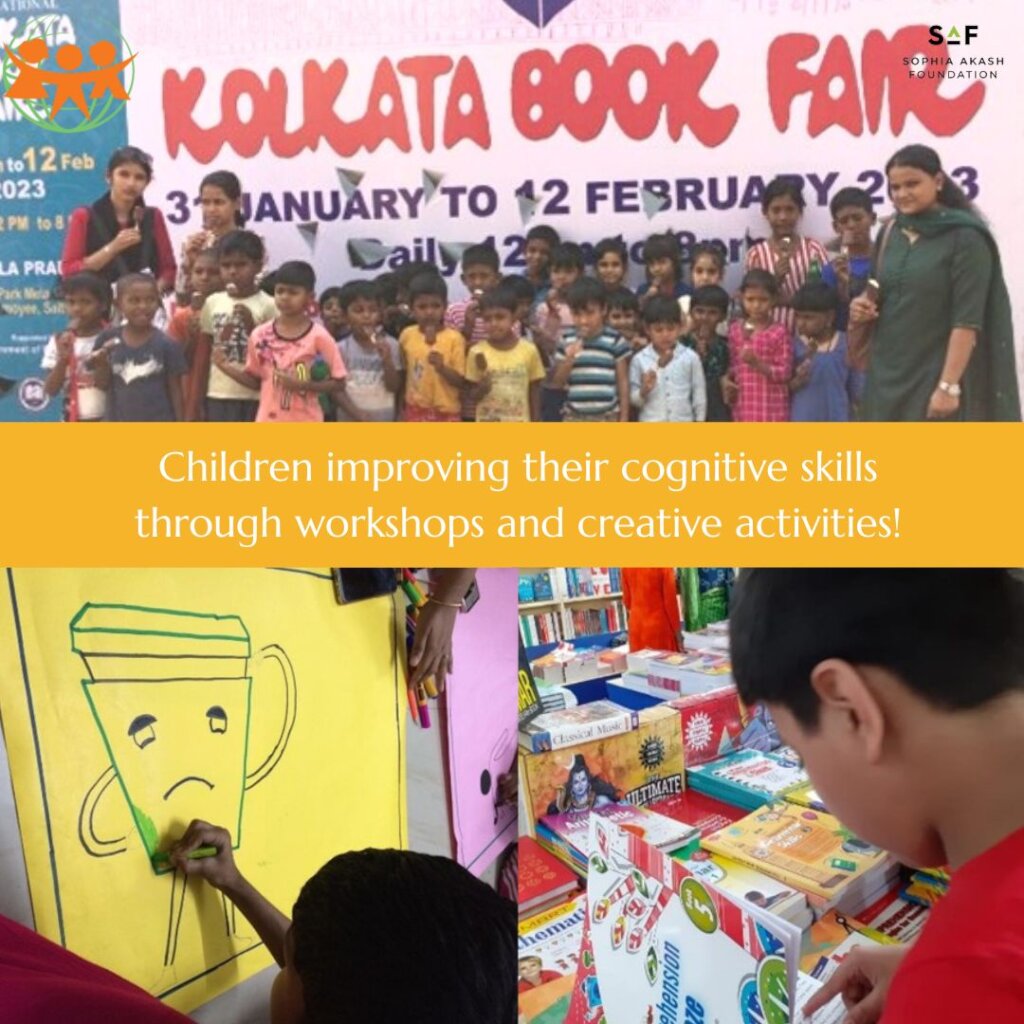 Integrating Homeless Children through Cognitive Learning
One of the biggest challenges facing these homeless and slum quarter children is their almost complete lack of basic cognitive skills. When they arrive at the Sealdah station school, many as old as 14 years old have never had the opportunity to learn about letters, alphabets, numbers, colours or shapes.
Through careful and nurturing interaction, as well as behavioral, mental and general health assessment, the children are helped to settle into their new classrooms and happily engage with their classmates.
Emphasis is placed on teaching and working with children with similar mental ages to make sure that they will be able to read and write, engage with confidence as well as work and play with the other children happily.
Learning through creative thinking, fun and games
By introducing the children to learning through creative exercises and games, the new children quickly develop basic cognitive skills, gain confidence and feel at ease with their new surroundings. As a result, the children also develop and use their logical thinking for simplifying their understanding about everyday aspects and their surroundings. Children who have already progressed through these nurturing phases also continue to benefit and excel.
Introduction to Mother Nature
Some of the most vulnerable children, living in makeshift shelters on the streets have also little or no interaction with mother nature within the concrete jungle they find themselves living in. Specially designed workshops to teach the children about plants, trees and wildlife further broadens their cognitive skills and their understanding of the world around them.
Through these workshops, children such as Aditya, Mrunal, Samir and Rekha learn how to grow plants using simple means. They are taught how to plant saplings using only water by re-using plastic bottles as their plant pots as well as how to nurture them, while keeping a clean and hygienic environment.
Developing social skills while also learning
Last year the children attended the Kolkata Book Fair with their teachers, which was a very different experience for them. Coming from the communities that they live in coupled with their harsh upbringing, they lacked the social skills to participate in a beneficial manner.
With the benefit of carefully nurtured development and learnings, this year the same children were able to interact, engage and make use of the event in a more confident and productive manner. Sitting down, carefully picking out books they could easily read and learn from has helped them and their teachers to start building an in-house school library.
A healthy mind in a healthy body
Most of these children are both malnourished and in great need of basic medical care. To help make sure they have the strong foundations of a healthy mind and healthy body, the children benefit from regular meals and weekly medical checkups especially heightened when any outbreak in the slum quarters of viral infections such as chicken pox. The children and their parents are provided with the necessary care, education and preventative information to stop any such viral infections spreading and infecting other members of their families and communities.
Roshini is just one of many children from these backgrounds and with similar challenges when they first arrive at the school. Since being introduced to the school, Roshini has made progress along this very carefully developed journey and is now learning, socializing and growing with confidence. With the much-needed guidance and teaching that she and the other children continue to receive, Roshini performed very well in her unit term examinations and has moved on to the next grade of education with aplomb. Along with her academic progress she is continuing to make progress on other aspects such performing arts and her social skills.
Future plans:
Since the COVID pandemic, many girls have dropped out of school due to financial constraints and responsibilities towards their families. Therefore, in the coming quarter, the school will partner with other local public schools so that the students are also able to benefit from the various government sponsored programs to reintegrate them into the school. This will improve their participation and attendance, as well as prepare them ultimately for the general curriculum exams.
Please continue supporting our efforts in supporting their dreams. Your generosity helps these children build a better future for themself and their family.