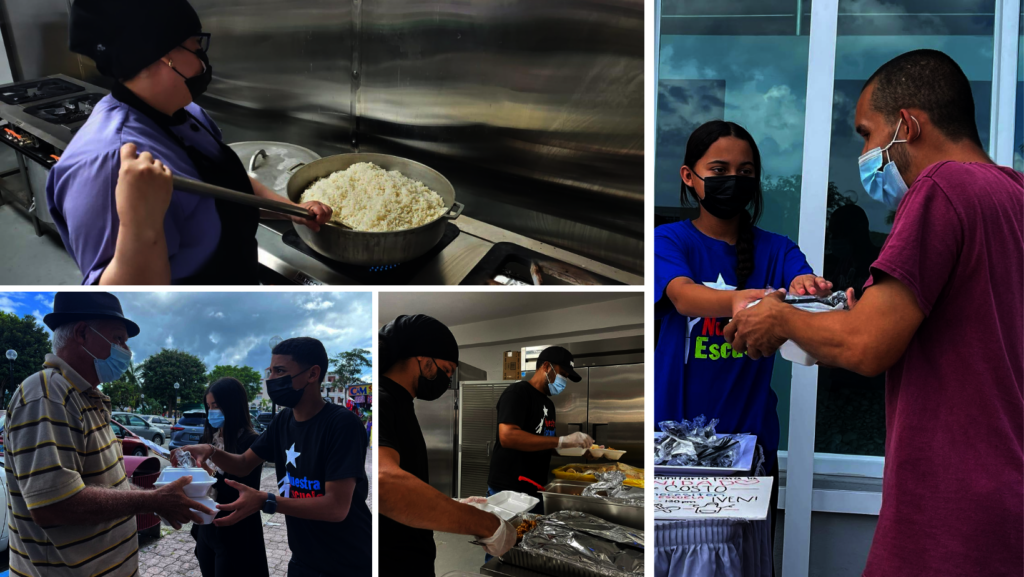 Fiona was a category 1 hurricane, which although not as devastating in terms of its winds, left Puerto Rico under water. Rainfall activity associated with Hurricane Fiona left, according to preliminary Doppler radar estimates, about 35 inches of rain in isolated areas in Puerto Rico, as reported by the National Weather Service (NWS) in San Juan.
At Nuestra Escuela we have gained knowledge from the experience of undergoing the disasters and emergencies occured during the past 5 years. We have learned that we are a much stronger and resilient community than we imagined. In the context of an island where there are more than 830,000 users without access to drinking water and 3 million without electricity, non-profit organizations have been mobilizing to accompany and support their communities.
Upon the impact of hurricane Fiona,our biopsychosocial support area was able to contact 96% of the families of Nuestra Escuela to assess their needs after the hurricane. Being close to identification of the needs of our communities is at the core of our management. We listened to their needs, to jointly create r solutions to common problems:
99% of Nuestra Escuela's families did not have access to water or electricity services due to high winds, rains or flooding. In Nuestra Escuela, we mobilized our resources to carry out a distribution of boxes of water.
11 families out of the total 327, reported difficulties in accessing the purchase food, either due to lack of money, lack of transportation or mobility problems. We placed the purchase orders to support them.
The vast majority of the families were in the process of cleaning and disinfecting their houses, as a result of flooding, leaks and/or dirty water that came from the sewage system. We activated a support plan for these purposes.
Thanks to the support of Puerto Rican Foundations, we managed to create an oasis of drinking water in front of our school in Caguas. We also delivered gallons of water to all the families in Caguas and Loíza, that did not have access to drinking water.By identifying the need for hot meals, which once again evidences the serious problem of food insecurity that our communities are experiencing, we activated our community kitchen, just as we did during the aftermath of Hurricanes Irma and María. In this ocassion, thanks to the support of GlobalGiving, we have a stronger infrastructure to activate our resilient mechanisms. This has allowed us to deliver over 21,200 hot meals to our communities.
We have been able to creatively overcome the crisis triggered by successive emergencies, because we think in community, based on real needs.
All our efforts are oriented in this direction. Together we can do it!