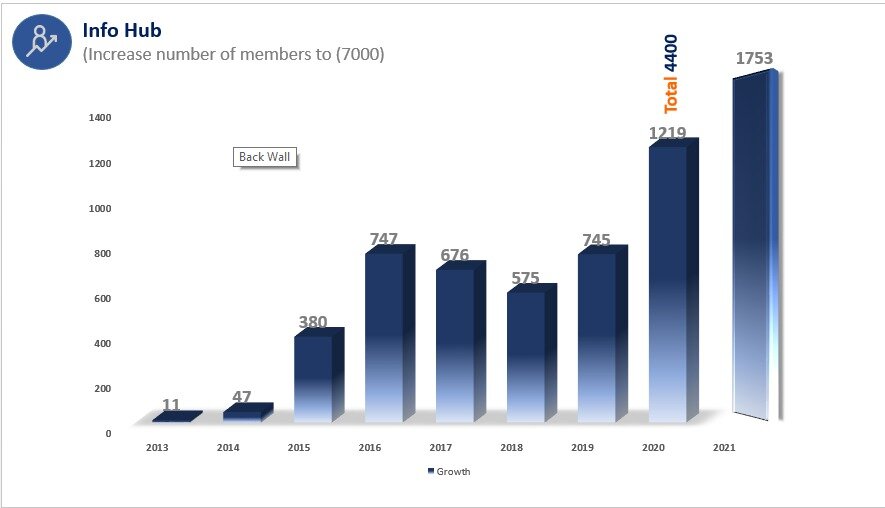 Dear Alhassan donors, supporters, and believers,
We highly appreciate your continuous support of our cause. Your donations contribute to sustain our project "Info Hub" and maintain our ERP system. We have the only database in Egypt that has physically challenged people's information and we grow every day with an average of 5 beneficiaries (wheelchair users).
You witnessed every step of our growth. We started in 2013 with only 40 beneficiaries. Now, we support over 6600 beneficiaries all over Egypt! We have reliable data and statistics that we share with the Egyptian Ministry of Social Solidarity to evaluate wheelers' needs and implement solutions or come up with legislation and regulations for them. That kind of crucial data needs to be collected, analyzed, and evaluated properly and that's the objective of our Info Hub project.
Now I will share with you a small portion of the data collected during 2021,
About 1753 new members joined AlHassan Foundation family during 2021 reaching more than 6000 members in total :
2274 members from Cairo.

1871 members from Lower Egypt.

1726 members from Upper Egypt.

282 members from Canal governorates.
And because Alhassan Foundation does believe in full diversity and inclusion, the foundation provides its services to all wheelchair users in Egypt with no preference for any gender, belief, age, or social status. now we serve :
More than 4200 males

More than 1900 females

More than 1000 Kids
After a long study through AlHassan Foundation team for these figures, we will be able to make strategic decisions to determine the foundation's annual strategy for 2022.
Such as that, the foundation team can determine where can we focus our services in 2022
We at AlHassan foundation always and forever believe that knowledge is power.
We utilize this knowledge for:
Assigning each beneficiary to one (or more) of our projects and services.

Knowing where to allocate our resources, for example, know which places are in high demand for accessible facilities and prioritize those.

Matching beneficiaries with our partners who can help them develop the hobby or sport of their interest.

Creating a new service that will solve a frequently challenging aspect in wheelers life.
Investing in a system like this is worth it!
Having such clear, organized and classified data is the first and lasting step that wheelers take in their journey across our projects and services. It monitors their progress and records all their achievements and inspiring stories.
We want to thank every donor or supporter who helps us to achieve this success and we urge you to continue supporting us in our case, our hope, our dream through subscribing to monthly donation which helps us secure more funds to help more wheelchairs users and their families.
Please visit our Facebook page to read other success stories:

https://www.facebook.com/AlhassanFDN/

Thank you for believing in the differently-abled. :)