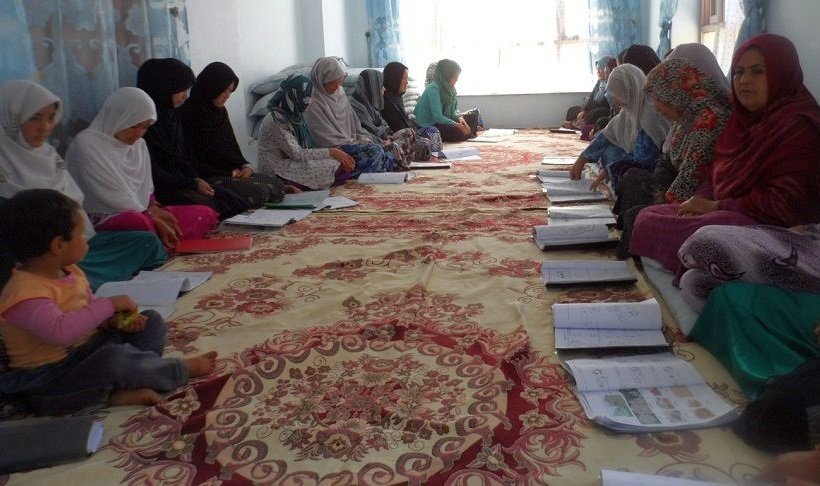 Thank you so much for your support of the 1000 days project. Funds raised through this initiative are sent to RED International's partners to support and provide resources for Community Health Workers in India, Health & HIV Services around Lake Tanganyika and the BLiSS Project in Afghanistan. This report includes stories from BLiSS (Birth Life Saving Skills) in Afghanistan and Antenatal and Postnatal care in India.
BLiSS (Birth Life Saving Skills) in Afghanistan.
Shaima and Mozahira were participants of Freshta's BLiSS training group. One day when I went to teach, Mozahira was not present at the group. When I asked them why, Shaima said she had delivered her baby last night.
"Her husband called me to help her. When I arrived there she was in labour. At first I was concerned but then I remembered what we had learned in the BLiSS lessons about how we can help a woman during delivery. The first thing I did was to tell her husband to bring the taxi for going to the doctor (the family had prepared money for this). I told Mozahira: 'don't worry, until the car comes, I will help you'.
I prepared all the things needed for delivery and then I washed my hands and put on the gloves. Suddenly I could see the head of the baby so I told her push, and then the baby was born! I dried the baby then rubbed him and cleaned his mouth, nose and eyes. Then I cut the cord. In order to get the placenta out I told her to pass urine and start the baby breastfeeding.
After a while the placenta came out. I checked placenta to make sure it was complete. Then I cleaned up the things contaminated with blood and fluids and disposed of them. I told her 'now you are not at a high risk.' I said to her: 'Do you remember the teachers telling us that after delivery you should massage the womb for 24 hours and also don't wash your baby for 24 hours? Tomorrow you should go to the clinic for vaccination and a check-up.'
Thanks to the BLiSS team that they teach us how to help a woman during delivery."
RED International's partner, Operation Mercy, have been able to restart the BLiSS project in the Wakhan region of Afghanistan. Having suitably trained facilitators is one challenge. Being able to get them to remote areas like Wakhan is another.
Antenatal and Postnatal Care - India
The health workers supported by the project work in a variety of settings. Eighty of our health workers are based in schools in eighteen states across India. They work with the school children, their families and wider village communities. Health workers visit villages three times a week and see between ten and twenty patients per week. In addition, they speak to groups, particularly women, and discuss health topics facilitated by the visual aids provided by the 1000 days project. The health workers report on specific categories of patient, rather than total numbers seen. However, based on the reports of 39 health workers over a three-month period reporting on 3,200 patient contacts, 50% of these contacts involve checking the blood pressure of individuals, 16% of whom are existing or newly diagnosed hypertensives and 10% on caring for diabetic patients. During this three-month period 69 cases of TB were detected or monitored by these 39 health workers. They also recorded that nearly 20% of health worker time was spent on antenatal or postnatal care.
Extrapolating from these figures it is estimated that the 80 health workers see 800 individual village patients each week and assuming that they are visiting villages between 30 to 40 weeks a year, this would mean that they would have a minimum of 20,000 to 30,000 individual patient contacts per year. For specific conditions this would equate to:
4,000 to 6,000 antenatal or postnatal contacts per year
10,000 to 15,000 blood pressure checks per year detecting or monitoring 3,200 to 4,800 hypertensive patients
2,000 to 3,000 individual contacts with diabetic patients
Antenatal teaching at individual or group level is facilitated by visual aids provided by the 1000 days project.
This is just one story showing the importance of the work being carried out by the Community Health Workers. Vijaya, who works in Telangana State tells the story of a 20-year-old woman who was 9 months pregnant. Vijaya visited her 15 days before her due date. However, when she went back ten days after the expected date of delivery she discovered that the baby had not yet been born. The family had waited, hoping for a normal home delivery. The pregnant woman was very uncomfortable so Vijaya called an ambulance and she was taken to hospital. She had a female baby by caesarean section. The baby swallowed meconium stained amniotic fluid, but was saved by the intervention of the doctor. Mother and baby are now well. However, the doctor informed the mother that, if she had not gone to hospital when she did, she would have lost her baby.
Thank you again for your support of the 1000 days initiative helping RED International to provide education and support for mothers and children and their wider families and communities. You are helping us to make a difference in the lives of those living in the communities supported through this initiative.
Please share these stories with your friends and contacts through the links provided. You would be helping us to build a bigger support network for the important work being done by our partners in giving more expectant mothers the support they need at such a critical time for both mother and child. We would appreciate your help with this, thanks again for your partnership.