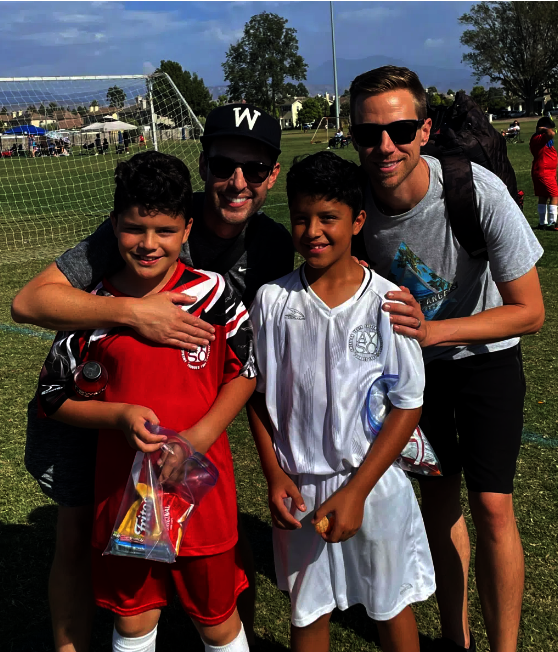 Greg and Aaron heard about Kidsave through a friend and were impressed by its unique family visit model, which allows older kids to meet and spend time with potential adoptive families. They were particularly interested in the Summer Miracles program, which helps older kids from orphanages in Colombia find forever families during 3- to 5-week visits with host families who plan to adopt or advocate for the kids in their search for a loving family.
They attended a Kidsave "Meet the Kids" event. "I didn't know what to expect," said Aaron, "but everyone was so warm and friendly." In the winter of 2021, the two hosted Samuel and Dilan.
"When we first met they boys, we were really touched by how much love they have for each other," says Aaron. They were 11 and 10. "We knew right away that we wanted to adopt them, but weren't sure if they'd return the feeling," says Greg. "So, while they were with us, we wanted to broaden their horizons and give them a beautiful experience."
Greg, Aaron, Samuel, and Dilan filled their 3 weeks with memorable moments. They went to the beach, the mountains, and all around town. "We had some very special firsts with the kids," says Aaron. "They'd never been to the beach, and we were so excited to show them the ocean, but they were enchanted by the sand first!" Dilan and Samuel's feet had never touched sand, and they had plenty of questions about the terrain. "It was so adorable," says Greg.
They introduced the boys to snow with their very first snowball fight and sledding in the mountains. "We're super lucky we live in California where there's a variety of weather and nature experiences," says Greg. "It was interesting watching them try to figure out what it means to have parents."
It was a blissful time, but soon it was time for the kids to return to Colombia. "It was a very tearful goodbye, we were all crying," says Aaron. But Greg and Aaron didn't waste time and began the adoption process right away. "There was no doubt in our minds that these were our sons," says Aaron. And at the end of Summer 2022, four dreams came true as Greg and Aaron traveled to Colombia to bring Samuel and Dilan home.
"Now we're excited to live our lives together as an official family," says Aaron. "You find yourself doing things your parents did when you were growing up, and it surprises you," says Aaron. "Sometimes it's a good thing, sometimes you recognize it and decide you'd like to do things differently." Greg and Aaron know that as the boys age, they'll be faced with new parenting challenges.
Over the holidays Greg and Aaron planned for their first festive season as a family. "We decorated the tree while playing Colombian music, Greg made some Colombian food, and we tried to show them our traditions but also add in their own history and their own culture." Greg and Aaron hope to always make space for their kids' heritage. "It's important to us that they know we value where they come from," says Greg.
"I went with the kids to the park the other day," says Greg. "I was hurrying out of the house when they asked me to take them, but I said to myself 'no, stop, because this is precious time.'" He thought of the years to come, when the kids might be more eager to be with friends or on dates than with their parents. "So, we went to the park and played soccer all afternoon; we laughed, had a great time, and I completely forgot about work and responsibilities. We just want to savor all the time we have together."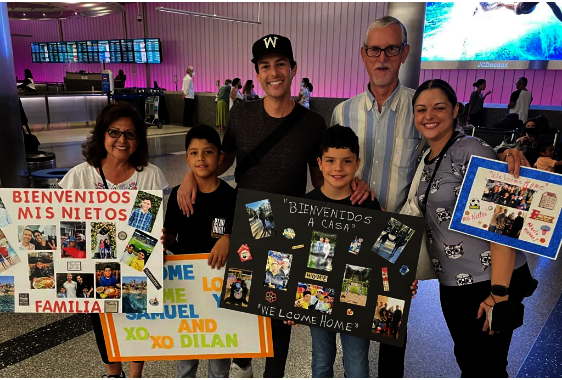 Links: