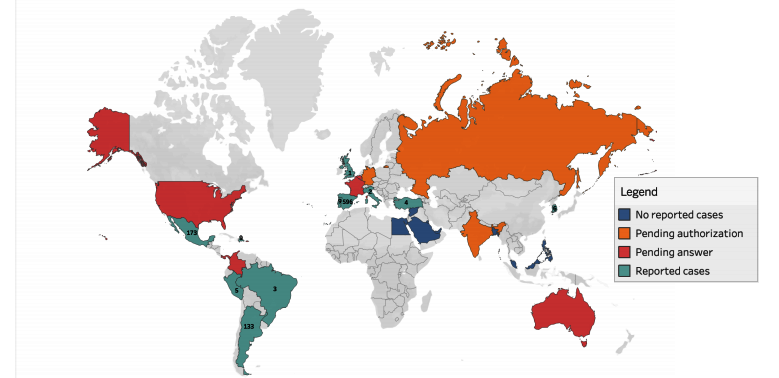 IDOTCOVID is an open-source platformhosting information about transplanted patients who tested positive to Covid-19, providing a holistic perspective on the influences of the pandemic on donations and transplantations' outcomes. The database displays 135 different variables and regroups statics about patients' status, recoveries, immunosuppressive treatments and Covid-19 treatments.
The goal of the database is to develop a machine learning algorithm to assist in the decision-making process - treatment alternatives and expected outcomes - of the population at the study.
The IDOTCOVID database uses data provided by 4 international registries - SEN, ELITA, CENATRA, and INCUCAI -, as well as 43 distinct centers. The collaborating registries / centers have been entering data in two ways: individually by an official representative of the registry / centers or automatically from the Registry of the Spanish Society of Nephrology as of August 2020.
To date, the database counts 1.415 cases from more than 20 countries. The main countries represented are Spain, Mexico, Argentina, Italy and Portugal.
In terms of organ transplants' representation, Kidney transplants represent 72,3% of the database's cases, followed by Liver transplants (26,1%), Heart transplants (1,1%), Pancreas transplants (0,2%), Multivisceral transplants (0,2%), and finally Lung transplants (0,1%).
To date the IDOTCOVID database reports that out of the 1.415 cases, 64,5% are males and 35,5% are females. These two populations were studied. 21.7% of males are deceased compared to 18.7% of females – taking into consideration that 5.5% of males' patients' status values were missing and 4.8% for females. The average age of the 1.415 recipients at COVID-19 diagnosis is 59 years old.
24% of the patients registered on the IDOTCOVID database died during the follow-up.
Based on our previous newsletter presenting findings about 941 patients we have different conclusions. The most frequent symptoms among the population at study are fever (78,6%), Cough (63,4%), Dyspnea (41,7%), Diarrhea (23,5%), and Asthenia (9,5%).
The main maintenance immunosuppression treatments are Steroids, Tacrolimus and Mycophenolate Sodium. The main Covid-19 treatments are based on different combinations with Hydroxychloroquine (70,8%), Corticosteroids (41,0%), and Azithromycin (34,6%)as the main medicines.
The next step of the project is to continue collecting data in order to have a more diverse data base. During the following days, 143 cases from the Hospital Clinic of Barcelona will be uploaded to the platform.
Another essential step is to complete the data we have in hands. Indeed, more than 70% of the data are missing as of today.
Thanks to your donations we can create the most complete and diverse database possible in order to achieve the ultimate goal of this project: to create a decision support algorithm (DSA).
Links: