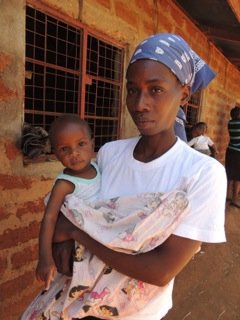 Doris is an 11 month old girl (shown in photo with her mother) who was brought to an outreach clinic funded by Global Health Partnerships (GHP). Her mother said that Doris was ill with a cough and diarrhea. She appeared thin and wasted when I examined her with the Kenya nurse, and her weight and length measurements confirmed that she was suffering from severe malnutrition. She was started immediately on the ready-to-use therapeutic food supplement Plumpy'nut® in addition to antibiotics and deworming medicine, with follow-up arranged with the community health worker (CHW) for her village. During the assessment of Doris' illness, her mother mentioned that she had brought her to a clinic about two months ago, where she was started on treatment for malnutrition. But the clinic was far from her home and she could not afford the transportation costs for the recommended return visits. Without ongoing treatment, Doris' condition deteriorated to the point of life-threatening severe malnutrition. Fortunately the GHP outreach clinic brought services closer to her home. The CHW will check on her and give her mother a supply of Plumpy'nut every 2 weeks, and monitor her progress. This GHP community-based approach has successfully treated over 250 children with acute malnutrition.
In order to prevent death and disability from severe malnutrition, it is very important to provide the necessary therapeutic feeding for the poorest families who are most at risk. They often live far from health care facilities and they are not able to afford the transportation costs. The outreach clinics, as described in the previous report, brings the services of the "Feed Hungry Children in Kenya" therapeutic feeding program to the families most in need. In the 3 months covered by this report an additional eight young children have been treated for malnutrition. The outreach clinics provided care, including immunizations, and assessment for malnutrition, for 254 children during those 3 months (February –April 20115).
Some of the poorest families with a malnourished child, often a grandmother caring for AIDS orphans, have other hungry children in their household. Those families receive a monthly food ration in addition to the Plumpy'nut. There are now has 22 families who receive food ration and some clothing for the children.
The "Feed Hungry Children in Kenya" project provides relief from hunger and child malnutrition very effectively and efficiently. 100% of the donations that are received by GHP go directly into program services! (A GHP Board member is covering all GHP administrative expenses).
Please send us your comments, questions, and feedback about our program. What do you find most interesting or important, and what changes would you suggest?