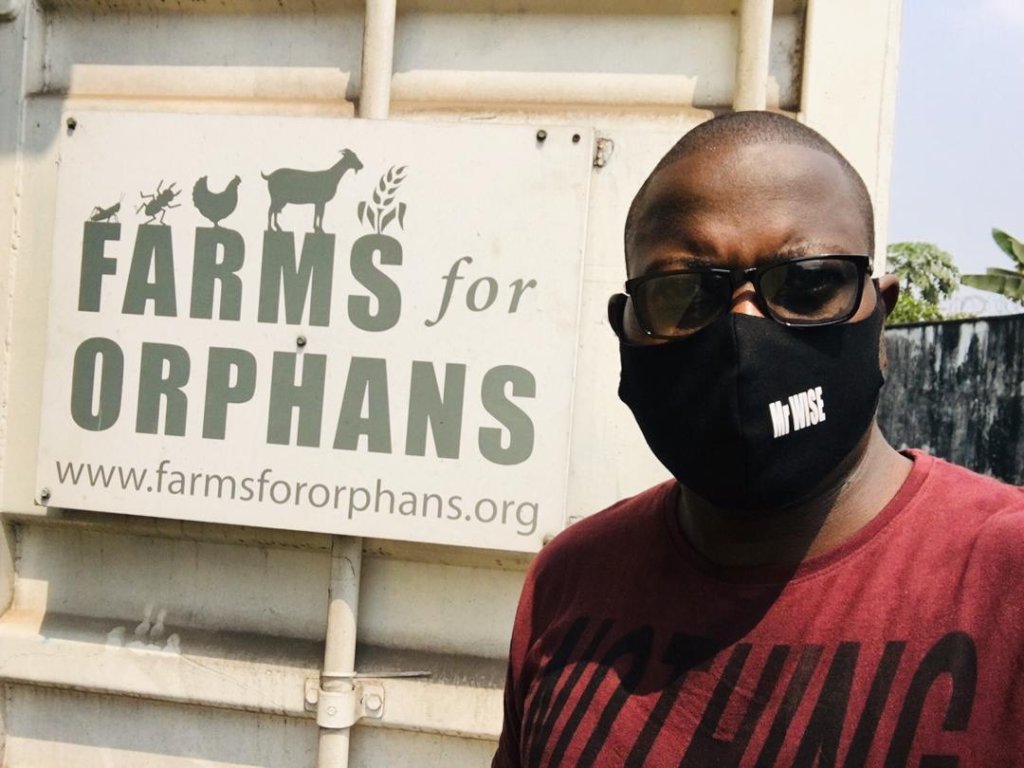 GlobalGiving
August 2020 COVID-19 special report
Dear Donors,
I hope this update finds you and your family happy and healthy! Last I updated you, in March 2020, I had just returned from the Democratic Republic of the Congo (DRC). At that time, the country was already implementing precautionary measures to protect their population from the spread of COVID-19. Unfortunately, like the rest of the world, COVID-19 made its way into the DRC. Working in the DRC has many challenges. Working in the DRC during a pandemic is even more challenging! Read on to learn more about the toll of COVID-19 in DRC and our work during the pandemic.
FFO Research Farm
On 10 March, the first case of COVID-19 was reported in the country. Kinshasa's central business district of Gombe — where the Farms for Orphans research farm is located, and the epicenter of DRC's coronavirus outbreak – was put under lockdown on 19 March 2020. In addition, schools were closed, and commercial activities halted in Kinshasa. Five days later, President Tshisekedi declared a national state of emergency, closed the country's borders, and isolated Kinshasa Province from other provinces to restrict the spread from the capital to the other regions of the country.
With permission from the government, FFO's Country Manager and Lead Insect Farmer were able to continue our work at the research farm during the lockdown. Wearing personal protective equipment and practicing appropriate biosecurity on the farm is not unusual for us!
As of 24 August, as I type this report, the Congolese government has reported nearly 10,000 cases and 251 deaths - an underestimate, given the limited COVID-19 testing capabilities within the country. Sadly, FFO's staff have both lost friends or family in Kinshasa to COVID, and FFO lost two of our biggest advocates and members of the Rotary Club of Gombe.
COVID also directly affected the FFO family, with our Country Manager falling ill around 23 June. For over three weeks, our Lead Insect Farmer took care of the farm himself! We are lucky to have his commitment and hard work, and luckier still to report that our Country Manager has made a full recovery and is back at work on the farm.
Health effects of COVID-19 in the DRC
Biosecurity measures put forth by the World Health organization to decrease the spread of COVID-19 – wearing a mask, frequent hand washing, and social distancing – are very difficult in Kinshasa, where a majority of the population lives on less than $2USD/day. To begin, many people do not have access soap, an expensive commodity. Clean water is a luxury for those who can afford indoor plumbing. People would rather purchase food than soap and bottled water.
Social distancing is difficult due to Kinshasa's very high population density (13 million). Households are often crowded - it's not unusual for 12 or more people to share a small house.
The DR Congo has one of the youngest populations in the world, with 46.4% of the population under the age of 15 years. Generally, COVID-19 affects older demographics; however, a large portion of the Congolese population lives with co-morbidities, such as malaria, tuberculosis and HIV/AIDS. Illnesses and chronic malnutrition render the population more susceptible to COVID infection.
In addition, the DRC has a fragile health care system with a significant shortage of health-care workers, personal protective equipment and other necessary resources. An influx of COVID patients creates a severe strain on health-care systems in the region. Outside Kinshasa's city limits, many are not able to access necessary services, whether for coronavirus symptoms or other health needs. The pandemic is having severe secondary impacts on people's access to medical care for conditions other than COVID in Kinshasa.
Economic effects of COVID-19 in the DRC
According to the Brookings Institution, the DRC ranks within the top five nations expected to be hardest hit by the poverty impacts of COVID. An estimated 40 – 60 million additional people will fall into extreme poverty than originally predicted pre-COVID, with urban populations more affected due to a loss of wages. This year will be the first time this century that the number of poor people in the world will rise.
Thus, progress in reducing poverty since the launch of the Sustainable Development Goals (SDGs) in September 2015 has been considerably hampered. We could enter the U.N. Decade of Action with the same distance to travel on poverty reduction, but only ten years in which to do it!
The orphanages
Due to the closure of Kinshasa's borders, food prices within the city have skyrocketed and orphanages are unable to purchase enough food for all the children in their care. Farms for Orphans continues to distribute palm weevil larvae to the most in need. And, with help from donors like you, we can build more palm weevil farms within orphanages so they are better able to weather food shortages and fluctuating food prices.
The urgency to provide solutions to the interconnected problems of poverty and food insecurity is more pressing than ever! Our services are in high demand in Kinshasa, but we need the support of our donors to reach more vulnerable youth. Please make a donation to Farms for Orphans today! Your donation makes a huge difference!
I wish you and your families good health in the coming months. Stay safe - practice social distancing, wear a mask, and wash your hands frequently!
Sincerely,
Dr. Amy Franklin
Farms for Orphans, Inc.
Founder and CEO
Links: