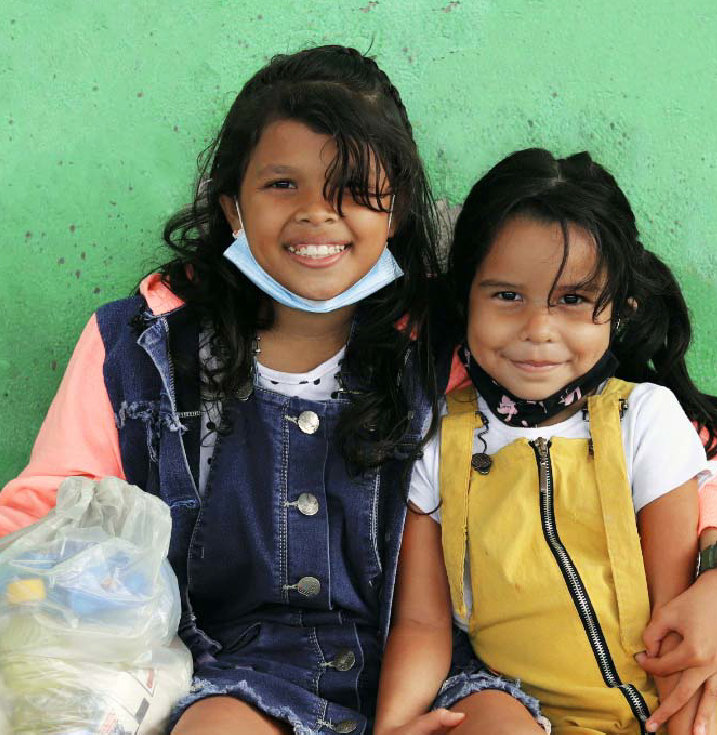 This is Edwin Alejandro, he is 10 years old and Maria Camila, his sister is 6 years old. They live in the Antonio Ricaurte´s neighborhood of Villavicencio, Colombia. During the COVID-19 pandemic they had to go through many difficult times. He told us that sometimes his mother could only give them a glass of water sweetened with sugar cane. The pandemic and isolation increased hunger in the country and Edwin Alejandro and his family are an example of the situation many children had to face in many places around Colombia. The food packages that the Bogota food Bank provided were the only support they received to survived. Nowdays, that his mother can go out to work, even if it is an informal job as a street vendor, she can bring some money to the family. They live in such an extreme poverty that even on the best days they can only have two meals a day.
To make things worst, this neighborhood suffered not only the COVID pandemic but the winter season came with floodings that damaged most of their belongings and left houses partly ruined. By destroying property, dwellings, infrastructure, livelihoods and productive capital these families were left on a very fragile social condition.
Thanks to your support el Banco de Alimentos de Bogotá provided food packages to Edwin´s Family and to other 190 families in that same neighborhood. Our goal is to get a plate of food in the home of all these families that otherwise won't have one. On behalf of all of them we give you a heartily thank you, your generosity has benefited dozens of children and their families.
The fight against hunger, this silent and invisible evil that afects the vulnerable, requires the effort and support of many, and the social determination of all. That is why, at the Banco de Alimentos de Bogotá, we don't only nurture bodies and feed hopes, but we also mobilize all the people of good heart and social awareness.
We invite you to keep on supporting us for a better tomorrow for our children and their families.
Please stay tune for the next project to keep on supporting more colombian families that are counting on you.
#TogetherAgainstHunger