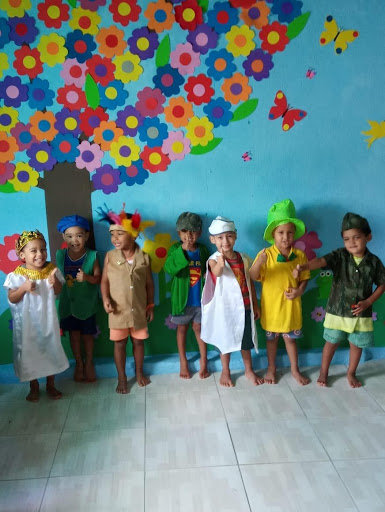 Dear Supporters,
Greetings from a very quiet Educandário Creche Comunitária Sonho da Vovó Clara (ECCSVC) or Grandmother Clara's Dream Educational Community Creche in Mata Escura, Brasil. Sadly, as we are seeing across the world, we have been forced to close to comply with lockdown restrictions in the fight to slow the transmission of Covid-19. This deadly virus is hitting everybody hard at the moment, but that blow is most acutely felt in poor communities like ours.
Poverty stricken areas struggle to be able to take the basic measures needed to stay safe - on a practical level many homes in Mata Escura lack basic sanitation to make regular hand washing a possibility and sanitizing hand gel, gloves, masks, extra quantities of soap – these are items that are not in the budget of our families. As waves of panic buying have hit Salvador many of our families have been left behind – you cannot stockpile if you do not have expendable income. Consequently, many of our families have been very worried about dwindling supplies of basic items like baby formula, flour and eggs in the local stores. For our parents that work, most are employed in either essential manual services – for the transport system, refuse collection, cleaning, working in supermarkets etc and as such as still working – or in unofficial roles such as selling items on the beach, in the markets etc – there is no support in place for these workers, therefore there is little choice for many but to keep heading out and looking for ways to make money. It is a terrible dilemma faced by poor families, there is no lack of appreciation of the seriousness of the crisis, but when you have mouths to feed how do you stay home?
Fortunately cases of Covid-19 in the local area have so far been limited, but there is evidence that numbers are beginning to rise sharply. This is extremely concerning given the poor, crowded and unhygienic state of the local public hospitals, coupled with poor diet and healthcare that will mean many locals, both young and old, will be disproportionately affected by the illness. The atmosphere in the area at the moment is one of fear and tense expectation.
For our part the ECCSVC is doing what it can to help. Our school cooks have continued to cook up a storm – offering food for collection each day to our students and their families. We have also put together food and essentials parcels for families to take home – including comestibles and cleaning/hygiene supplies. Whilst our teachers have been unable to come to work due to the restrictions in place, our school administrator Eraldo, who lives on site, has been available every day to talk, support parents, to advise, help with practical solutions to the dilemmas they are facing, administer emergency aid and point families in the direction of the government assistance available.
As in communities all over the world, Mata Escura is battling on. There will be tales of awful tragedy before this fight is over as I am sure there will be tales of wonderful community spirit and success against the odds; and the odds are stacked against many here. These are resilient people, with big, bold hearts and a fabulous ability to stay smiling through the roughest of times and I am sure they would want me to wish everyone the very best, stay safe and stay positive.
On an entirely different note and in the spirit of focussing on the positive – our wonderful Andrea finished her studies just before the Corona outbreak took hold and has now qualified as a teacher. Andrea has worked in the school for nearly a decade and is beloved by staff and students alike for her calmness, kindness and fabulous sense of humour. We have been supporting Andrea to attend night classes at the local college and our students have already been benefiting from all the new techniques, knowledge and resources she has acquired. We are so proud of you Andrea, you have always been a marvellous teacher, but now it's official!
Thank you once again for your fabulous support that makes our work and the success of the children of our school a possibility.
With love and best wishes from the community of Mata Escura,
Brazil Education