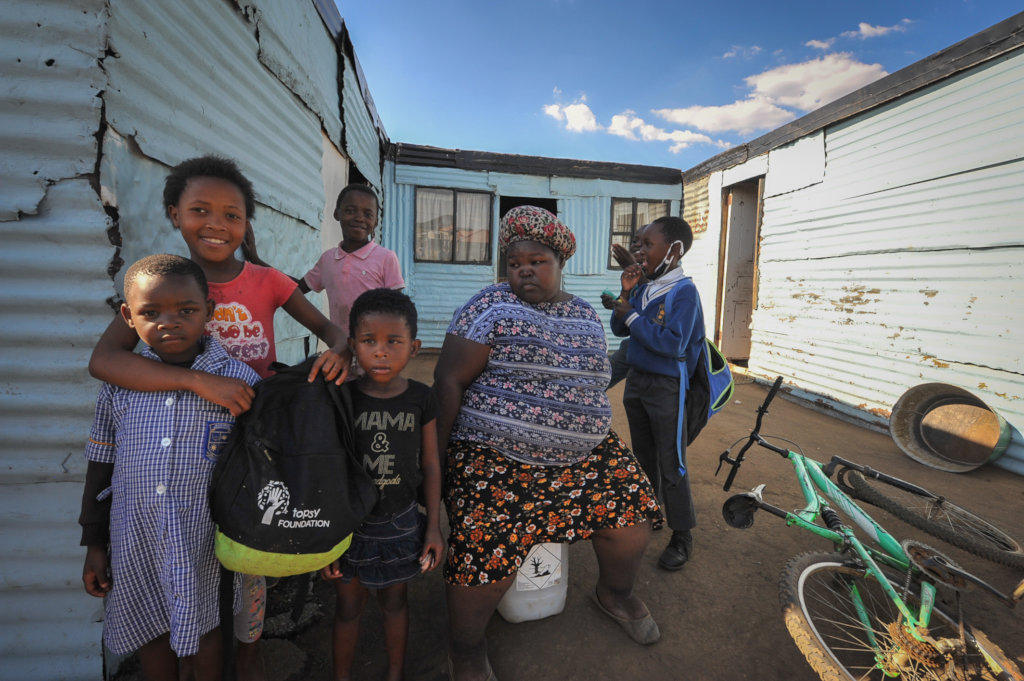 Our Holistic Early Childhood Programme is based in rural and peri-urban communities in Mpumalanga. The challenges facing these communities include high levels of unemployment, low levels of education, food insecurity and high crime. Increasing unemployment numbers are what have contributed to high poverty and food insecurity in many communities. The unemployment rate in South Africa is one of the highest in the world at 34.4%. This number does not include those who have given up looking for a job.
For many families, the only source of income is through informal employment, which only meets the most basic needs of families. As a result of the lockdown, these scarce job opportunities are no longer available leaving many more families vulnerable and hungry.
Our response to assisting these communities has been to empower them with the lifelong skills of food gardening, where they are trained and mentored by our Head Gardener. People in the project have a sustained source of nutritious food, with Topsy providing training and mentorship to establish food gardens. Families receive tools and seeds to grow carrots, onions, spinach, cabbage, tomatoes, and beetroot. Emergency food parcels are received by the family for a period of three months until the garden is fully established. The surplus produced from individual gardens can be sold by the grower.
The criteria for choosing these families include:
Children under the age of six (6)
Community gardens are also grown in schools, churches, ECD centres and open spaces within the community. Our staff on the ground worked hard to reach as many families as possible in need of food security.
14 000 individuals were reached through the programme, almost doubling the number from 2019/2020.
Testimonies
We have seen the positive impact the vegetable gardens have on the community we work with, beautifying many of the spaces and creating a sense of purpose for those working on the gardens. Here is some of their feedback.
Elizabeth works at the garden in Siyathemba Secondary School
"I started working in the garden that Mr Hadebe and his wife started at the beginning of this year (2021) because I lost my job at Republic Cafe. The reason is that I do not have a job. It's pointless for me to stay at home and complain about the government not providing jobs. I thought why not come to the garden and learn something. I enjoy learning about the food I plant. For example, green beans boost your immune system, beetroot lowers the risk of heart disease and stroke.
We also have chillies and herbs which we sell to the Indian community here who use them for cooking. They like herbs like coriander. The chillies make their food very spicey. We have a good relationship with them, they enjoy our fresh herbs and veggies. What I love about working in the garden is that when I'm done at the end of the day, I can take something home for the children to eat.
We are happy that Topsy helps us, but we need more help, for example, a JoJo tank. Water is a problem in the area and that affects the quality of our garden. We were going to add beetroot and mustard spinach but because of the water situation, we can't. We also need a hosepipe; we only have one for this big garden."
Mr Magagula Deputy Principal of Siyathemba Secondary School
"We are in support of the garden project that Topsy is doing here in the community and at our school. The ones who benefit the most are the children in grades ten to twelve doing agricultural studies. They can come out to the garden for their practical's. Their teacher wants to explain something it's the same, they come out and experience it in the garden, can touch the soil and understand better. It also benefits the community as a whole as an extension of relations between the school and the community."
Martha, growing vegetables for her Grandchildren
Martha (62) lives in Grootvlei with her husband and grandchildren and they both receive pension grants. Martha is a granny who loves to garden, spending a lot of time on her vegetable garden and flowers in her yard. Martha is part of the vegetable garden project. She received seeds, compost, gardening tools and training on how to start a vegetable garden from Topsy.
"Before knowing of Topsy, I use to buy spinach and tomatoes seed only because that's all I could afford. But now I receive different seeds from Topsy and my garden is big enough to feed my family. I don't have to struggle to feed my grandchildren because there are fresh vegetables in my yard. I also make a little bit of money by selling some of the vegetables, so I buy bread and other things for the house with vegetable garden money."
Involvement in our project kept him from making bad decisions
Sibusiso started a vegetable garden through Topsy as a distraction to avoid getting involved with bad crowds and to focus on being positive while unemployed. He has two children and is one of the many unemployed people in Dipaleseng depending on his income on the vegetable garden and odd jobs he finds around the community like doing gardens, building shacks and general handyman jobs.
The reason he chose to focus on doing a vegetable garden is that he developed a love of gardening from his parents. He says, "My mother and father were the ones to taught us how to do gardening. I received seeds for free from Topsy and that has been a huge benefit for me since I am unemployed like many young people in my community. Trying to earn a living is hard these days. The gardening help eases the stress of poverty because each day I can receive something to eat that's free and healthy from my garden."
Without your donation, we will not be able to respond adequately to the pandemic that is food insecurity in our communities. We would like to thank you for your help!