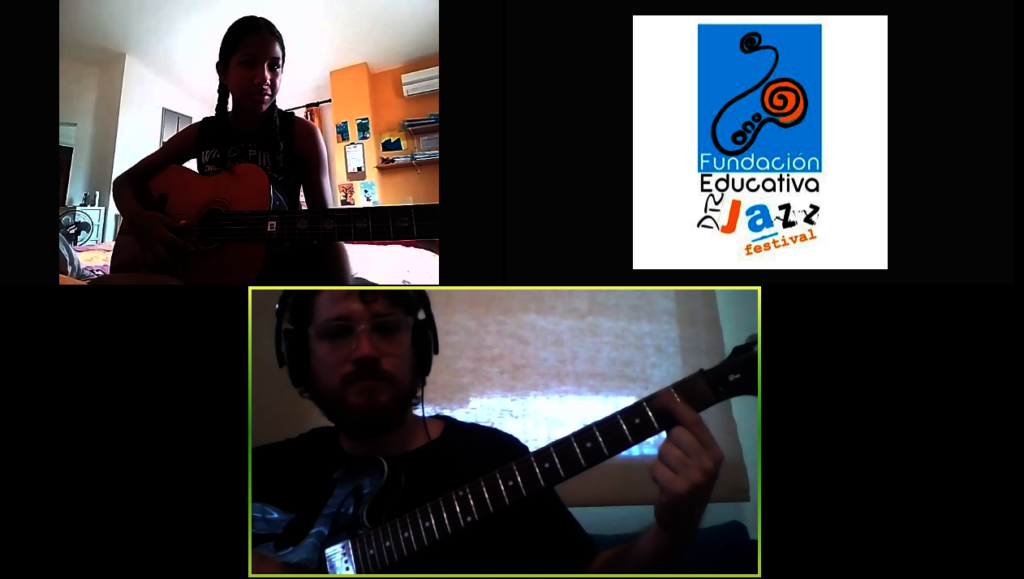 DONT STOP THE MUSIC
Despite the COVID-19 situation, FEDUJAZZ has been able to reinvent the way it offers education, giving the students the possibility to keep the continuity of our music program via online lessons, which are taught by our faculty in a string of individual sessions.
Even though there are limitations when it comes to online education, our teachers and students have generated fruitful exchanges. Given that our students attending our online lessons have the level that is required, every teacher makes the most of each session to take on specific subjects or problems.
Just like in-person lessons, our teachers pay attention to the technical aspects of their respective instruments during their virtual sessions. The instruments that are being taught online are piano, guitar, drums, string family and woodwinds. The practice requires them to acquire competences in areas that encompass intonation, breathing, fingering, memorization, etc.

Teachers present the corresponding theory, having in mind the corresponding instrument and adjusting it to the respective level of the student. The goal is to reach the best efficiency in both theory and practice, despite not being physically present to correct the student.
Once our virtual sessions are over and we get to back to the campus, the expected results are based on how much the student was able to keep up with a weekly routine assisted by his or her teacher, observing some repertoire, and developing the individual abilities.
We currently have 55 of our most advanced student in our virtual classrooms, and many of them are in the middle of an spectacular progress which can be observed from their instrument and that motivates us to support even more.
TRANKS YOU
Thanks to the support we received, we have been able to move forward every day in our academic and administrative projects. Our vision is to reach the highest number of communities so that FEDUJAZZ becomes the creative home for many teenagers and children who don´t know about this, providing them of opportunities for discipline.

Also, we are very glad that we received a new drum kit so our students can make the most of it. We are so excited to have it and being able to practice with the "New One", as they call it.

We wholeheartedly appreciate the efforts and dedication as well as the unconditional support displayed by our donors and collaborators. We will achieve so much more with your help.

Thank you