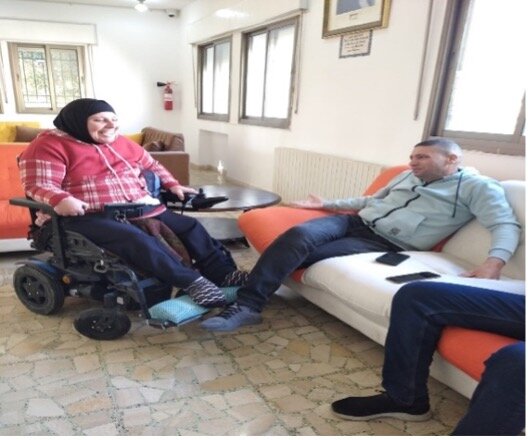 Thank you! for your caring and sharing.
Having much loving contact with their families is an on-going challenge for many of our residents. Their disabilities require assistance that many families simply cannot provide. Their homes are not wheel-chair accessible. Parents may have aged past the point of being able to help or died. Siblings have married and the new spouse refuses to have our resident home—except, perhaps for brief visits.
Permits are denied.
In all such instances, the Homes works extraordinarily hard and creatively to foster and sustain the bonds between out resident and his/her family:
Samira, now 49, came to us when she was 17. Delightful, articulate—in English as well as her native Arabic, a fashion aficionado, Samira was born with cerebral palsy, is largely paralyzed on one side, and moves about easily in her electric wheelchair.
Because Samira is from Gaza and her family was barred from coming to Bethany to see her, for many years, her only family contact has been an occasional phone call. Both her parents have now died.
When, finally, the Homes were able to get her surviving brother a permit and he came to see her, Samira's smile lit up the entire building!
As we begin the holy month of Ramadan, the Homes are providing educational, emotional and logistical support so as many of our residents can spend as much time as possible with their families. Your assistance helps make this possible.
Thank you!!