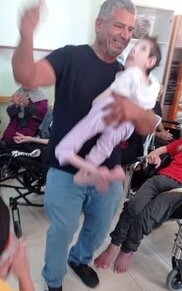 Family Support Program
This is what YOU have made possible by your gifts—the continuation and expansion of our family support program!
Issa's younger sister is also differently-abled but less impaired and much smaller, easier to lift from bed to wheelchair and back. In the Family Support Group meeting, their mother shared how extremely stressful and exhausting it had been, caring for both children at home, trying to get Issa the support he needed, and the tremendous strain it had been for the family. She also shared how hard it had been to make time for the rest of her family, and how it had affected the relationships with other family members….She said that during this especially difficult time, she found it very helpful to get advice and support from the parents of other challenged children who could readily emphasize with her difficulties. She is now deeply grateful for the chance to share her feelings of frustration at her inability adequately to care for both children at home, her sadness of having to return Issa to the Homes and her happiness and relief that he is again getting the help and stimulation he needs.
.
Maryam's father, a teacher, married another woman after the death of his wife. During the 10 months of the Corona Crisis, he cared for her. When, however, the Homes were able to re-admit residents, his current wife threatened to leave if he continued to keep his daughter at home. Feeling very depressed, but that he had no choice, he brought his daughter back to the Homes. He told the group that the feelings of sadness and remorse had continued to haunt him. Meeting with other families and sharing the same problems, he reported, "greatly helped him to reduce these bad feelings".
The Four Homes of Mercy created the family support program to provide information, advice and emotional support to families to strengthen the caring connection to their loved ones, whenever possible, have their resident home for visits. Four groups now meet on Fridays. After the meetings, the participants usually spend time with their loved ones. Our residents are delighted!
For families, living with and caring for a person with intellectual disabilities has clearly adverse effects on the health and well-being of parents, and family members. For parents, having a disabled child increases stress, takes a toll on mental and physical health and affects all aspects of family life, including decisions about work, education, family finances and social relations. Many families, lacking knowledge about how to cope with someone with intellectual disabilities, and/or how to cope with the social stigma having such a family member too often creates, decide to place their loved one in a place that specializes in caring for such individuals. Alas, this often results in the isolation and segregation of the loved one from their families and communities which negatively impacts that person's self-image and mental health. Unfortunately, because of the lack of community-based programs, many families have no alternative.
The Homes are working to expand Family Support Program to provide support to additional families, both within and without the Homes.