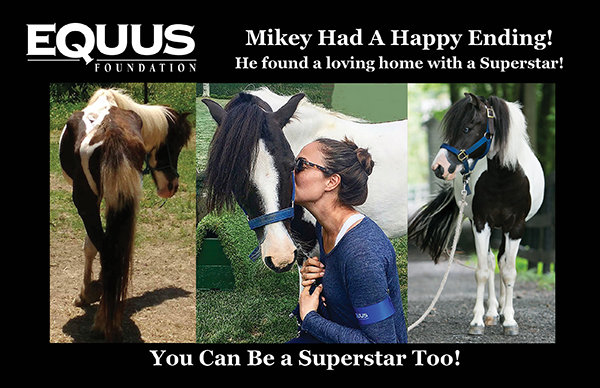 Adoptable horses awaiting new careers got to shine on two glorious, consecutive days this summer at the 2017 Hampton Classic Horse Show! The Opening Ceremony at the Hampton Classic on Sunday, August 27th, featured our parade of the adoptable horses.
The horses were then showcased at a Meet & Mingle with Adoptable Horses presented by the EQUUS Foundation on Monday, August 28th, as part of the 7th Annual Hampton Classic Animal Adoption Day sponsored by world-class equestrian and our EQUUStar, Georgina Bloomberg, on Monday, August 28, 2017, and featured dogs, cats and horses in search of forever homes.
"All horses are champions to us," said Valerie Angeli, EQUUS Foundation VP Communications. "We are honored to help them find their way home to a new purpose and a new beginning."
A kiss sealed the deal for Mikey, adopted on the spot for her daughter by EQUUS Foundation EQUUStar and world class equestrian, Brianne Goutal Marteau. Now healthy and stunningly beautiful, Mikey was rescued at auction by 13 Hands Equine Rescue in an emaciated and neglected condition. 13 Hands Equine Rescue was one of the five featured equine charities that were invited to join the EQUUS Foundation with adoptable horses at the Hampton Classic event.
"Mickey Blue Eyes will now serve as an Ambassador for so many other beautiful horses like him who just need a chance," said Brianne.
All horses, even champions of the racetrack and the show ring, are only one unlucky sale away from abuse, neglect and being sold for slaughter.
100,000 of America's horses were transported over the border for slaughter last year. Most were young, healthy and had untapped potential. None deserved this inhumane end of life.
America's horses need homes where they can flourish as athletes, companions, teachers, and especially healers.
Links: