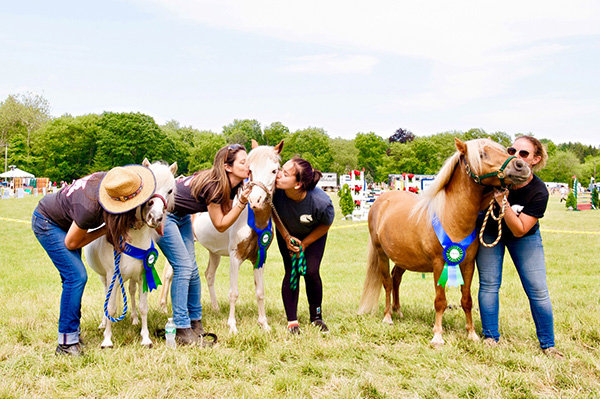 Thursday, June 22nd was a sunny and hopeful day for adoptable horses of many types, shapes and sizes at the Fairfield Hunt Club June Benefit Horse Show in Westport, Connecticut. The EQUUS Foundation organized the exhibition of rescued, adoptable horses on site from 4 local horse rescue organizations on the EQUUS Foundation Equine Charity Network. Spectators and competitors and their friends and families were invited to meet and greet the horses and their rescuers, learn the stories of each of the horses and interact with each horse, as well as take and post social media photos to help promote horse adoption.
Adoptable Mustangs, Off-the-Track Thoroughbreds (OTTB), Miniature Horses and a Rocky Mountain Horse (pony) were present with their rescuers and handlers who demonstrated what these horses can do and amazed visitors with their rescue stories.
"Every single horse that joined us on Thursday was rescued from kill pens at various auctions throughout the United States," said Valerie Angeli, VP of Communications and Special Projects for the EQUUS Foundation who organized the event. "The purpose of these events is to not just to get these horses adopted but show the living, breathing examples of what horses at risk look like, and to educate people that ALL types of horses of all ages are at risk, not just old and infirm horses as many people think."
Many horses, like the ones that participate in our Equine Adoption Days, are in the prime of their lives and have so much potential; they simply fell on hard luck. Every horse is only one unfortunate sale away from being found like these horses were. These horses are lucky and will now have the future that all horses deserve. We encourage horse lovers to be horse protectors - to consider horse adoption - and to support our network of horse welfare charities that are saving horses and finding them new purposes and safe, loving homes.
The EQUUS Foundation hosted two Equine Adoption days this Spring and will coordinate another coming up this August at the Hampton Classic Horse Show on Monday, August 28th.
Can we make horses smile? You bet we can!
Links: