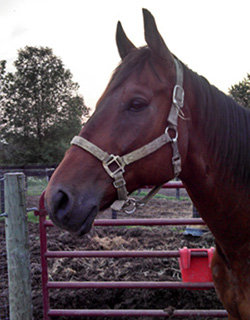 When Nyuk Nyuk Nyuk arrived at Beyond The Roses Equine Rescue (BTRE) in Emmett, MI, he was emaciated, sore and was diagnosed with severe arthritis in all of his ankles. The rescue found Nyuk, a 15-year-old ex-racehorse on Craiglist for $1 two years after his last race. Nyuk had competed in 80 races during his stakes winning career earning $813,953.
Through a partnership with Hagyard Equine Pharmacy, the EQUUS Foundation was able to provide joint supplements for Nyuk to receive some immediate comfort. BTRE is one of 135 equine charities across the United States recognized by the EQUUS Foundation as Messengers. What sets Messengers apart from other organizations is their commitment to public transparency and willingness to publish and share extensive data about their programs, horse care practices, and governance.
Messengers receive not only resources, but also financial support thanks to the donations of special individuals and organizations who recognize the magic and power of horses in our lives.
Nyuk is lucky. He will live out his life at BTRE as a sanctuary horse, but there are an estimated 200,000 unwanted horses in the United States. Unfortunately, many are slaughtered. Horses may not have nine lives like cats – but they certainly have more than one.

It costs at least $1,000 to rescue, rehabilitate, re-train and rehome one horse. Our challenge is to transition as many horses as possible to new careers especially as therapy animals. Of the 50 million people with disabilities, only 50,000 have access to equine therapy.
The EQUUS Foundation is committed to supporting equine organizations operating at the highest standards of horse care and use and to awarding funds where it is needed most. Thank you for making Nyuk smile!