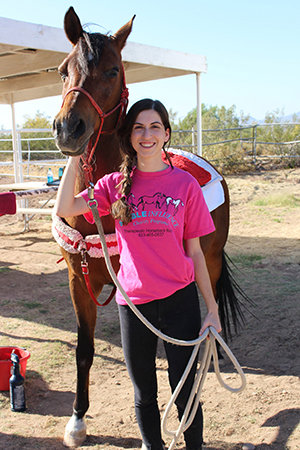 "Many young girls dream of owning a horse, and I was one of them. For many years, my love of horses extended only to Breyer models, Girl Scout horse badges, and riding lessons during school vacations. That all changed for me in freshman year of high school when I turned my passion into purpose."
Katelyn is one of eleven individuals who were awarded EQUUS Foundation Champion of Equine Service scholarships.
Dedicated to improving the quality of life of horses, enabling the therapeutic use of horses for those in need, fostering the horse-human bond, and educating the public about the horse's unique ability to empower, teach and heal, the EQUUS Foundation provides financial support and services to over 900 equine charities across the United States.
The EQUUS Foundation Champions program recognizes and rewards individuals for their volunteer service in support of these charities.
Katelyn is a 16-year old high school junior and member of the Crossroads East Valley IEA high school team. Active in her school and community, she admits, "horses are my passion".
When she was a freshman, she responded to an ad on the "volunteers needed" bulletin board for Stable Influence Charity Programs.
Katelyn recalls, "I enjoyed working with kids through Girl Scouts and as a mentor at school, so blending that with horses was a great opportunity for me." She eagerly signed up and has been volunteering weekly ever since.
"I was impressed by how responsive the horses are to the riders, and have learned to trust their instincts as they often sense something going on with a rider before we even notice."
"Clients get so much joy from their relationships with the horses and show progress toward their goals with every session. I consider this opportunity a blessing, as I am now more aware of the needs of others, how to communicate effectively, and how to offer appropriate help."
"Competition has built my confidence and strengthened my work ethic, and now I have a lifelong sport. Horses have taught me to be a leader not a master. My volunteer experience has taught me to do the best with what I have."
Learn more about our volunteers at http://equusfoundation.org/news/news-release-229.html.