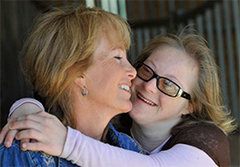 Charlie was not a rescue in the traditional sense of the word, but he could have been if it were not for the instinct of a talented horsewoman. His story is the story of a sensitive, kind but challenging horse and the bond he formed with Sherri Barnes and her daughter Kasey, born in 1993 with Downs Syndrome.
When Charlie was only two years old, he caught the eye of Sherri Barnes. Sherri watched with interest as the cowboy riding him hit the ground with a resounding thud. But Sherri saw an extremely athletic horse that could fulfill her competitive aspirations and that all he lacked was confidence. It took two more years for Sherri to talk the owner into selling him to her.
But, in 2008, at the age of nine, Charlie was seriously injured during the start of a barrel run. Sherri, Kasey and the entire Barnes family took on the challenge to care for him. Remarkably, Charlie made a full recovery, but just as Sherri and Charlie started to rodeo again, Charlie's career took another turn.
Kasey started barrel racing at the age of seven. "She was on a horse as soon as she was strong enough to hold her head up", said Sherri. By 2010, Kasey's abilities wowed everyone who saw her ride. Already a champion barrel racer, Kasey had the opportunity to compete in the Special Olympics show - but she needed a horse. "I just decided to put her on Charlie", said Sherri. "A lot of people looked at me like I was nuts". But Sherri saw something in Charlie and Kasey that no one else could see.
Six weeks after Kasey and Charlie began their partnership they made their debut at their first Special Olympics show in Ponder Texas and dominated the competition earning medals in eight events. After that, Kasey and Charlie competed in National Barrel Horse Association events across the southwest against typical developing peers, winning week after week.
Charlie returned to the Special Olympics venue in 2011, 2012, and 2013 - not just with Kasey but also as the mount for other team members. Once considered too skittish for competition, Charlie emerged as a solid mature minded mount and a true all-around athlete faithfully caring for special needs riders of all abilities, happily accepting side-walkers and various horse handlers and always willing to showcase his riders' abilities to the fullest.
Charlie's story is not just about a special horse and the special bond between a mother and a daughter, it's a story for everyone about never giving up.