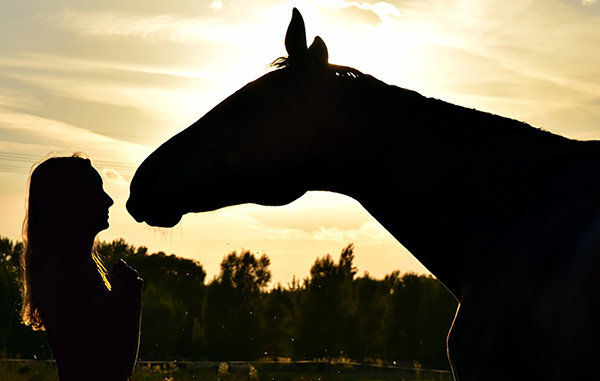 The EQUUS Foundation announced today the award of over $631,000 in grants, including awards of new and gently used riding apparel, valued at $313,864, to individual riders in need, scholastic riding programs, pony clubs, equestrian camp programs and equine charities through The Rider's Closet program.
Primary support is awarded to equine charities nationwide that save and re-home increasing numbers of horses from abuse, neglect, and slaughter and charities that partner with horses to improve the well-being of people through the Foundation's Transparency Awards program. The EQUUS Foundation awarded small grants ranging from $500 to $5,000 to 142 charities that earned the EQUUS Foundation Guardian Seal of Transparency by completing the EQUUS Foundation's comprehensive and unique verification process.
EQUUS Foundation Horse Whisperers Horse Whisperers are a select group of individuals and organizations who are committed to ensuring that America's horses are safe and live with dignity throughout their lives and are recognized by the EQUUS Foundation for their extraordinary kinship with horses by the establishment of an award in their names to honor deserving equine charities.
The EQUUS Foundation Board of Directors honors those charities from among the grant recipients that best align with the interests of the Horse Whisperers with a Horse Whisperer Award.

Horse Whisperer Perpetual Awards

Michele E. Arnhold Memorial Horse Whisperer Award
Established in 2008 in memory of Michele Arnhold's life-long passion, her pursuit of excellence, and her commitment and contribution to the equestrian sport.
High Hopes Therapeutic Riding, Inc., Old Lyme, CT

Daniel D. Barkan Memorial Horse Whisperer Award
Established in 2013 in memory of Daniel D. Barkan, a quiet philanthropist and gentleman, in recognition of his life-long love of horses.
Brook Hill Farm, Forest, VA

Horse Whisperer Annual Awards

Augusta Mills Equestrian - Matt Metell Horse Whisperer Award
South Florida SPCA, Homestead, FL

Linda Berley Horse Whisperer Award
Project Horse Empowerment Center, Purcellville, VA

Emma and Georgina Bloomberg Horse Whisperer Award
Omega Horse Rescue and Rehabilitation Center, Airville, PA

Marguerite Brennan Memorial Horse Whisperer Award
Mitchell Farm Equine Retirement, Inc., Salem, CT

Giant Steps - Next Steps Horse Whisperer Award
Loudoun Therapeutic Riding Foundation, Inc., Lovettsville, VA

Gore Family Memorial Foundation Horse Whisperer Award
Colorado Horse Rescue, Longmont, CO
Lucky Orphans Horse Rescue, Inc., Dover Plains, NY

Jackson Family Horse Whisperer Award
Days End Farm Horse Rescue, Lisbon, MD
Prancing Horse, Inc., Southern Pines, NC
Kay Family Foundation Horse Whisperer Award
BraveHearts Therapeutic Riding & Educational Center, Harvard, IL
Lafitte De Muze Horse Whisperer Award
Gerda's Equine Rescue, Inc., West Townshend, VT

Lannie Lipson Horse Whisperer Award
This Old Horse, Inc., Hastings, MN

Mighty Nice Horse Whisperer Award
Kentucky Equine Adoption Center, Lexington, KY

Newstead Foundation Horse Whisperer Award
Thoroughbred Athletes, Inc., Guthrie, OK

Otis Booth Foundation Horse Whisperer Award
Drifter's Hearts of Hope, Franktown, CO
Saving Horses, Inc., Encinitas, CA

Richard L. Parish Memorial Horse Whisperer Award
Central Kentucky Riding for Hope, Inc. (CKRH), Lexington, KY
Charleston Area Therapeutic Riding, Inc., Johns Island, SC
Green Chimneys, Brewster, NY

Robin Cleary Parsky Horse Whisperer Award
Mini Therapy Horses, Calabasas, CA

Ellen R. Pearl Horse Whisperer Award
Happy Trails Farm Animal Sanctuary, Ravenna, OH
Split Rock Farm/Bobbie & Derek Braun Horse Whisperer Award
Giant Steps Therapeutic Equestrian Center, Inc., Petaluma, CA

As the only national animal welfare charity in the United States that is 100 percent dedicated to protecting America's horses and strengthening the horse-human bond, the work of the EQUUS Foundation begins each time the career of a horse comes to an end. Too many of America's horses are needlessly subjected to abuse and neglect, and the threat of slaughter when their owners cannot, or no longer wish to, care for them.
"It is only through engaging passionate supporters and collaboration that we are able to identify and invest in effective programs that are finding homes for at-risk horses and horses in transition, providing a safe haven for aged horses, and increasing opportunities for more people to benefit from the magic and power of horses," said Lynn Coakley, EQUUS Foundation President.

At the heart of our mission is our commitment to ensure that donor dollars are invested in effective programs that are finding homes for at-risk horses and horses in transition, providing a safe haven for aged horses, and increasing opportunities for people to engage and partner with horses in new and innovative ways.
Informed giving has never been more important. Only equine charities that have undergone a rigorous review of their horse care and business practices are eligible to attain the EQUUS Foundation Guardian designation and to receive financial support from the EQUUS Foundation.
Grant recipients from the last three years can be viewed here
Links: