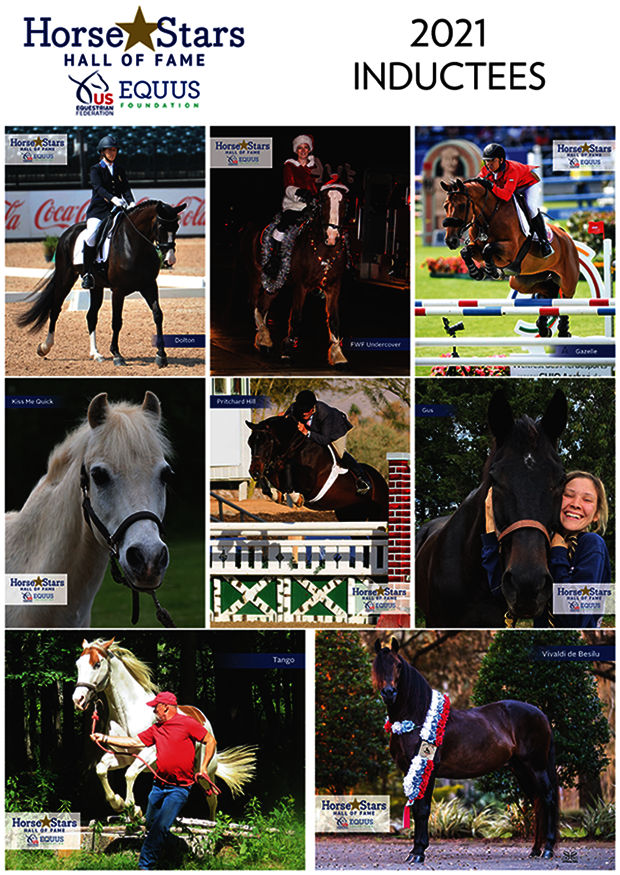 The Horse Stars Hall of Fame honors the contributions of amazing horses by sharing the stories of their athletic and humanitarian feats. It was established by the EQUUS Foundation and the United States Equestrian Federation (USEF) in 2013 to celebrate the extraordinary talent of horses and their magical and powerful bond with people.
The USEF inducts the horses recognized annually as "Horses of Honor" for their stellar athletic performances. The EQUUS Foundation inducts horses who have had an inspirational impact on the public as companions, teachers and healers.
The 2021 Horse Stars Hall of Fame inductees are Dolton, FWF Undercover, Gazelle, Kiss Me Quick, Pritchard Hill, Sir Gus, Tango and Vivaldi De Besilu.
EQUUS Foundation Inductees:
FWF Undercover
(1998 - 2020)
Taya Workum-Byers
FWF Undercover, known fondly as Sherman, a Georgian Grande born in 1998 and passing in 2020, was a 'once in a lifetime horse' for Officer Taya Workum-Byers and the thousands upon thousands of people he impacted during his life of public service. When Officer Taya Workum-Byers purchased him as a mounted police prospect, she had no idea what she had really found. READ MORE . . .

Kiss Me Quick
(1995 - )
Loudoun Therapeutic Riding, Inc.
Kiss Me Quick, known as Gnomeo, is good at everything he does. A seasoned horse show veteran with literally a million miles under his girth, Gnomeo joined the therapy horse herd at Loudoun Therapeutic Riding, Inc., at 14 years young in 2011. Gnomeo's quiet demeanor is the perfect introduction to the wonderful world of horses for even the most timid participant. READ MORE . . .
Sir Gus
(1995 - )
Brook Hill Farm
When Gus arrived at Brook Hill farm he was skin and bones. He had been left on a farm to fend for himself and after being alerted by local law enforcement, Gus arrived at Brook Hill as a neglect case at the age of 17 in 2012. So began a long physical and mental rehabilitation. READ MORE . . .

Tango
(2006 - )
The Equus Effect
Jane Strong, Founder of The Equus Effect, met Tango for the first time in a pasture where he had been retired by his young owner. Tango had been at the top of his game as an eventing horse but his life, as he knew it, came to an abrupt halt in 2013 when he had a severe accident that injured his shoulder. That is when both of their fortunes changed. READ MORE . . .
United States Equestrian Foundation Inductees:
Dolton
(2012 - )
Flintwoode Farms LLC and Karin Flint
The partnership between Dolton, a Hanoverian Gelding born in 2012, and Para Dressage Rider, Roxanne Trunnell, clicked from the start. Their bond and Dolton's incredible temperament carried them to success at the 2018 FEI Longines World Equestrian Games, including becoming the first U.S. horse-and-athlete pair to medal at a para dressage world championship. READ MORE . . .
Gazelle
(2006 - )
Robin Parsky & Kent Farrington
Gazelle's many triumphs come as a result of her incredible partnership with Kent Farrington Developing together over the years, they share a desire to win and a competitive spirit that instills confidence in everyone around them, including co-owner Robin Parsky. "She has proven to us time and time again that she wants to win it all," said Parsky. "All my life I have dreamed about having a horse as amazing as her." READ MORE . . .
Pritchard Hill
(2012 - )
Balmoral
Known familiarly as "Quinn" around the barn, Pritchard Hill, a 2012 Oldenburg gelding, was named after Pritchard Hill -- the best hill in the Napa Valley to grow wine grapes. Like many of the great ones, the incredibly talented gelding required some extra time to develop and truly shine. "He's really intelligent, so you have to let him learn his lessons and leave him alone until he digests it, " said Carleton Brooks, known throughout the hunter/jumper industry as CB. READ MORE . . .

Vivaldi De Besilu
(2010 - )
The Besilu Connection, Ltd - Benjamin Leon
Vivaldi de Besilu (Bribon de San Isidro x La Ley de Cuatro G, Mandato de La Luisa) is regarded as one of the most exciting stallion prospects of the modern Paso Fino era. Born with a gait unique to the breed and considered among the smoothest riding horses in the world, the origin of "Los Caballos de Paso Fino" — the horses with the fine step - goes back to the Spanish conquistadors. READ MORE . . .
* * *

"The Horse Stars Hall of Fame is a wonderful way to demonstrate the staying power of horses -- as athletes, companions, teachers and healers -- and their unique abilities to move us through a spectrum of experiences from thrill and exhilaration to pure joy. By sharing the stories of these amazing horses, we hope to build a more informed and compassionate America that values the impact of horses in our lives," said Lynn Coakley, EQUUS Foundation President.





Links: