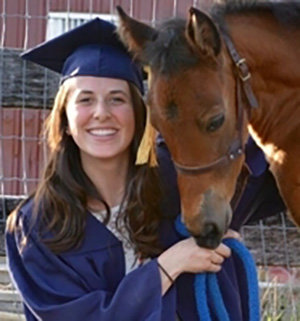 On Sept. 16, 2019, Samantha Marie Pritchard Calzone passed away doing what she loved most in this life - riding horses. Equipped with passion, the knowledge arising from her BS in equine studies from the University of Connecticut (UConn) and her Masters from Hartpury University in England, and the leadership skills she gained from serving as Captain of the UConn Equestrian Team, Samantha hoped to dedicate her life to improve the lives of horses.

The EQUUS Foundation is honored to announce the inaugural recipients of the Samantha "Sam" Calzone Memorial Award established in tribute to the life of Samantha Calzone and her everlasting passion for horses. The two 2020 recipients are the University of Connecticut and West Virginia University.
The award recognizes an institution of higher learning offering equine studies and/or equine athletics programs that ensures that the quality of life of its equine partners is paramount.
"While the loss of Samantha will always be unimaginable to Samantha's family and those who deeply loved her, we hope that Samantha's legacy will be to inspire others to seek the knowledge that is needed to elevate the equine profession and to create a reality to ensure that safe solutions exist for both horses and people," said Lynn Coakley, President, EQUUS Foundation.

University of Connecticut (UConn)
The University of Connecticut (UConn) Department of Animal Science's Equine Program is dedicated to educating the next generation of equine professionals and enthusiasts with coursework and experiential learning opportunities covering the entirety of the lifespan of the horse - from responsible breeding to training to end of life decisions. The University of Connecticut offers multiple opportunities for students interested competition -- for those in their first years of riding as well as students with previous show experience, including the disciplines of Dressage, Hunt Seat, Western, and Polo.
UConn's 85 horse herd is primarily comprised of Morgan Horses descended from the US Calvary, but also Thoroughbreds, Quarter Horses and Warmblood crosses. UConn raises horses for its teaching and riding programs and retires them usually to the alumni who have helped to raise and train them. Other horses, such as the polo ponies are donated by alumni and supporters of our programs.
West Virginia University
The West Virginia University Equine Studies (WVUES) program offers a well-rounded equine studies curriculum with diverse student opportunities in and out of the traditional classroom. This includes hands-on laboratory courses in equine handling & training lab, riding theory & techniques, and advanced horse management as well as English and Western Equestrian Teams affiliated with the Intercollegiate Horse Show Association (IHSA).
WVUES maintains a herd of 8-10 horses for its hands-on courses and working student program. The teaching horses are generally retired show horses in their teens that are both owned and leased by WVU. WVUES ensures that all the horses receive outstanding veterinary, dental, and farrier care and also veterinary acupuncturists/chiropractors and massage therapists as needed.In appreciation of the physiological demands that teaching students with varying skillsets places on our herd, the horses participate in only one riding lab and one handling exercise per day for no more than four days per week.
When the time comes to retire a teaching horse, WVUES places the horse on a lifetime lease with an alumni or friend of the program - retaining lifetime ownership of the horse. The lease agreement can be terminated at any time and the horse can be returned to our care if the circumstances change. A returned horse remains in the care of WVUES until another proper retirement option is found. When the time comes, at the recommendation of the WVUES clinical veterinarian, WVUES horses are humanely euthanized.


Links: