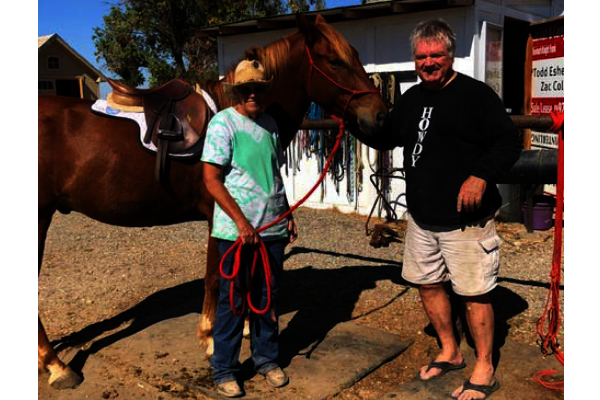 Thanks to Ariat International, sponsor of the EQUUS Foundation Champions program, five volunteers from equine charities across the United States receive a free pair of boots each quarter from Ariat in recognition of their volunteer service.
We are proud to announce that the five volunteers selected by random draw for the third quarter of 2020 are: Richard Hickey, Honey Jaks, Sarah Miller, John Snyder, and Ruth Tietz. These five volunteers represent the tens of thousands of individuals who contribute their time to keep horses safe and healthy at equine charities across the United States. We admire their dedication and as Honey Jaks wisely stated, " It really is Horses Healing People Healing Horses".

Honey Jaks
Hope for Horses, Inc.
Galt, CA
Honey was raised with horses until he was around 12, when Baseball became his primary interest. However, when he decided he wanted to volunteer; he gravitated back towards the horses. "Volunteering at Hope For Horses allows me to show up when I can, and leave the ranch feeling good about doing something I enjoy for others and their horses. I gain great pleasure seeing the results of my efforts. While I'm no rider, I do enjoy the company of horse folks."
Honey tends to take on the jobs around the ranch that others are not too fond of with his biggest contribution being when he takes care of the weeds in the Winter & Spring. He is even referred to as 'The Whacker of Weeds' and considers himself a good 'extra pair of hands' when it comes to ranch projects. As a flip-flops kind of guy, Honey is looking forward to trading in his flip flops for his new Ariat boots. He said, "These boots will serve me well in my volunteer efforts! Thank you Ariat!"

Read the stories of Richard Hickey, Sarah Miller, John Snyder, and Ruth Tietz here. Learn more about the EQUUS Foundation Champions program here.

The EQUUS Foundation is the only animal welfare charity in the United States that is 100% dedicated to protecting America's horses and strengthening the bond between horses and people.

Sadly, many of these beautiful and magical creatures who empower us and heal us are faced with an uncertain future -- with many thousands the victims of cruelty, neglect and slaughter each year.

Just $25 a day will not only care for a horse who has been the victim of abuse and neglect – and prevent that horse from being shipped off to slaughter, it will also care for a horse at an equine therapeutic center who is enriching and improving the lives of people, especially children, who are facing hardships.

In 2020, we have been able to help provide care for nearly 5,000 horses at 160 charities nationwide. We'd like to double that number and provide a lifeline to 10,000 horses in 2021.