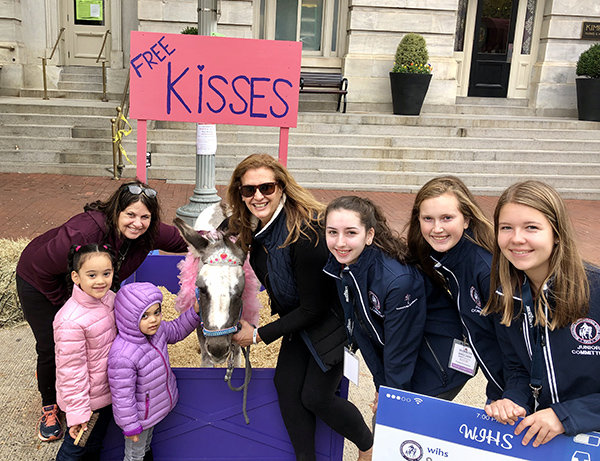 The EQUUS Foundation has been a proud, long-time supporter of the Washington International Horse Show (WIHS) that brings the magic of horses into the heart of DC so all can experience horsepower. But this year, the EQUUS Foundation spread the love of horses in its own unique way by having a rescued miniature donkey in the Kissing Booth at Kid's Day to help inspire horse welfare and adoption.

Blossom, a little, painted donkey with sight in only one eye due to a previous injury, is as sweet and docile as they come and was rescued in the nick of time by Kelly Smith of Omega Horse Rescue in Airville, Pennsylvania, an EQUUS Foundation Guardian, her husband Matt, and Blossom were on hand to encourage compassion for all horses. Blossom delighted all and gratefully accepted kisses and being brushed and petted gently by visitors of all ages.

WIHS was also host to our Rider's Closet Donation Trunk. The Rider's Closet provides donated riding apparel to equestrians of all ages and at every level of horsemanship who need the clothing to pursue their horsemanship dreams -- as well as equine charities, scholastic riding programs, pony clubs and equestrian camp programs.
By the end of the week, the EQUUS Foundation collected several trunks full of britches, shirts, riding jackets and boots. Founded by EQUUS Foundation EQUUStar, Georgina Bloomberg, in 2006, the Rider's Closet merged with the EQUUS Foundation earlier this year.

The EQUUS Foundation also presented the WIHS Honor & Service Award on Friday evening to two horses who give back every day to improve the well-being of people - Happy, a 22-year old leopard Appaloosa from the Northern Virginia Therapeutic Riding Program NVTRP) in Clifton, Virginia, and Reeses, a 27-year old Thoroughbred from the Project Horse Empowerment Center in Purcellville, Virginia.

The new, high-tech and stylish vegan paddock boots and tall boots by Der Dau to benefit the EQUUS Foundation were also sparking interest and special orders at the Der Dau booth inside the Capital Arena where the Washington International Horse Show competition took place. Gentle to animals and the environment, 20% of every sale of Der Dau's vegan boot line, made from non-animal leather (pineapple fiber and recycled rubber), is donated to the EQUUS Foundation, thanks to the generosity of renown lux boot maker, Der Dau, based in Brooklyn, NY, USA.

"Two Therapy Horses to Honor, A Donkey to Kiss, Lux Boots Made of Pineapple that Give Back to Horses, and a Trunk Filled to the Brim with Donated Apparel for Equestrians in Need ... That Was Our Week at the 2019 Washington International Horse Show!" said Valerie Angeli, EQUUS Foundation VP.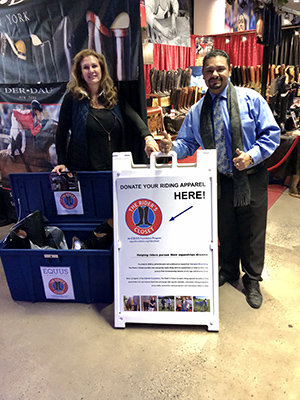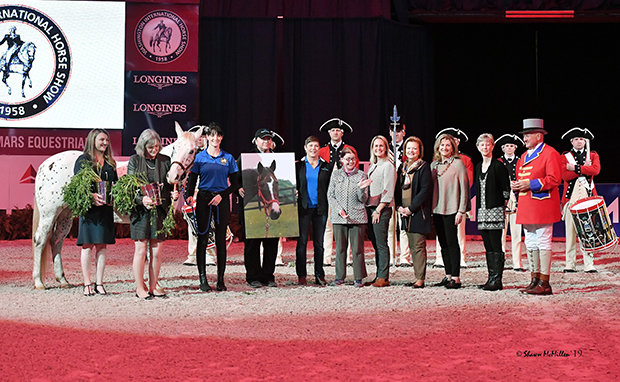 Links: