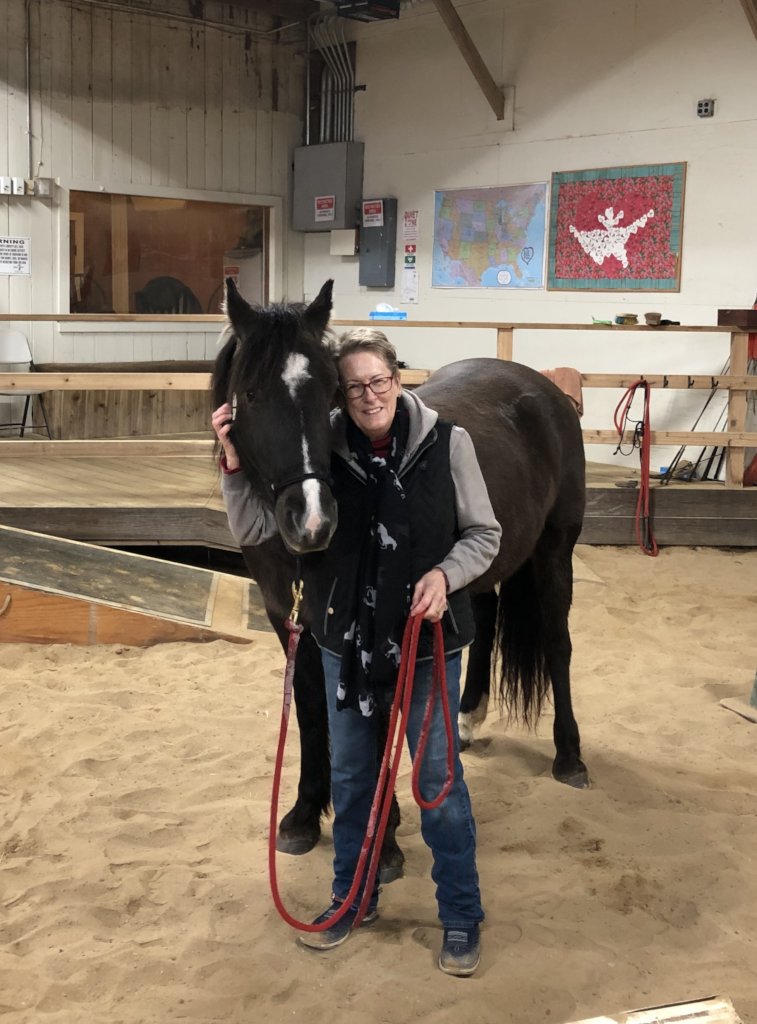 Horses have played a significant role in advancing civilization and continue to positively influence our happiness and our health as athletes, companions, teachers, and healers. But, tens of thousands of horses become at-risk for abuse and an untimely and inhumane end of life. Over 81,000 of America's horses were shipped across our borders to be slaughtered in 2018. Most were young, healthy and had untapped potential.
Equine Assisted Activities and Therapies (EAAT) offer a boundless opportunity for people to engage with horses in new innovative ways and help them lead responsible and productive lives. Yet, while there are over 48 million people with disabilities in the US, only 7,800 horses are currently serving only 66,000 people with special needs.
There is something incredibly empowering and inspiring about earning the respect of an animal that weighs over ten times more than you. Here's Nancy and Bill's story . . .
Nancy always had a passion for horses, inspired by childhood visits to the farms of her relatives in Minnesota and nurtured by horse activities at summer camp. In her twenties, she was lucky to own a beautiful palomino Quarter Horse mare but had to give up riding when the demands of childrearing took priority.
It wasn't until many years later in 2015 that she and her husband, Bill, a veteran, happened upon BraveHearts Therapeutic Riding & Educational Center and learned that as a veteran, Bill could participate in their programs for free. BraveHearts has the largest equine-based program in the nation for military veterans comprised of riding, ground activities, carriage driving and gentling wild mustangs.
Nancy said, "I jumped in with both feet to volunteer, dragging Bill along with me. It wasn't long before "my" passion became "our" passion and we found ourselves spending quality time together doing things we enjoyed."
Then, Nancy and Bill's world was shattered in 2017 and they plummeted into deep grief after finding their 28-year old son lifeless and unable to be revived from a drug overdose. It was the horses that horses opened their hearts and ears and were available to absorb their tears and sobs as they walked through that deep valley of darkness. "It was through this tragedy that we personally experienced the God-given, healing qualities of the horse," said Nancy.
Nancy said, "Bill is now a certified riding instructor, and a day doesn't go by that we don't thank God for putting us in touch with BraveHearts and these wonderful horses. It was the horses that helped us cope with our future and showed us how we could help others."
The EQUUS Foundation is the only national animal welfare charity in the United States 100% dedicated to protecting America's horses and strengthening the bond between horses and people. At the core of our mission is safeguarding the comfort and dignity of America's horses throughout their lives and sharing their ability to empower, teach and heal with as many people as possible by:
• INSPIRING horse lovers to become horse protectors by stimulating advocacy and volunteerism;
• EDUCATING the public on the impact of horses in our lives; and
• EMPOWERING equine charities to operate at the highest standards for horse care and service and be fully transparent by providing them with recognition, guidance, resources and financial support.