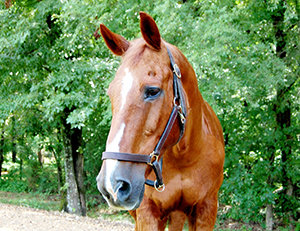 Ozzie, Slycy, Sonny's Jigsaw, Titan & Wandering Angus are the five lucky horses to receive 2018 EQUUS Foundation Horse Welfare Awards sponsored by Platinum Performance. Ozzie, Slycy, Sonny's Jigsaw, Titan & Wandering Angus's owners - five EQUUS Foundation Guardian charities - received a $500 cash award and $500 gift card for Platinum Performance products to be used for their care. An additional 29 horses received gift cards for Platinum Performance Equine.
Ozzie
Warmblood Gelding born 1996
Southern Reins Center for Equine Therapy
Ozzie had been a jumper in his younger years and came out of retirement to start a new career as a therapy horse in 2017. Read more about Ozzie here.
Slycy (Sly)
Thoroughbred Gelding born 2007
Healing Arenas, Inc.
The winner of over $253,000 and 52 starts, Sly retired completely sound and is now getting back into shape for this next chapter. Read more about Slycy here.
Sonny's Jigsaw (Chance)
Quarterhorse Gelding born 1995
Exceptional Equestrians of the Missouri Valley, Inc.
Chance was a trail horse and provided lessons to students at Missouri State University before taking on his next career as a therapy horse. Read more about Chance here.
Titan
Percheron Gelding born 1995
Roanchar Ranch Draft Horse Rescue
Titan spent years as a carriage horse, but when his owners could no longer care for him, he became a victim of abuse and neglect. Today, he's thriving and is the eyes for his pasture mate Barney, a blind Belgian. Read more about Titan here.
Wandering Angus
Thoroughbred Gelding born 1997
Great and Small
Angus is on his fourth career - first as a racehorse and then as an eventer. When the discovery of a heart murmur caused his owner to retire him from all galloping sports, this special horse taught his owner's daughter to ride and as well as other children. Angus came to Great and Small to share his wisdom with riders with special needs in 2017. Read more about Angus here.
There are thousands of charities in the United States that are directly engaged in the day-to-day work of rescuing and rehabilitating America's abused and neglected horses; retraining and rehoming America's horses in transition; providing retirement opportunities for aged horses; and enabling horses to change people's lives, especially for people with special needs - many of which participate on the EQUUS Foundation Equine Welfare Network.
Only those charities that undergo the EQUUS Foundation comprehensive and unique verification process and receive the EQUUS Foundation Guardian designation are eligible to receive financial support from the EQUUS Foundation.
"Especially now - with the advent of the internet and social media - it is essential to make sure that organizations making appeals to potential donors and grant makers are fully transparent and operating at the highest standards. Thanks to Platinum Performance, we are able to provide much needed support to deserving charities that are ensuring that America's horses are safe and live in comfort with purpose and dignity," said Lynn Coakley, EQUUS Foundation President.
"We are truly honored to support the EQUUS Foundation and the incredible work that they do to keep America's horses safe with purposeful lives and loving homes. Congratulations to the recipients of the 2018 Platinum Performance Horse Welfare Awards. We celebrate all the deserving applicants for their complete transparency and wonderful effort in protecting horses and appreciating the impact they have on each of us," said Emily Smith, MS, Platinum Performance.
View all the 2018 Platinum Performance Horse Welfare Award Recipients here.