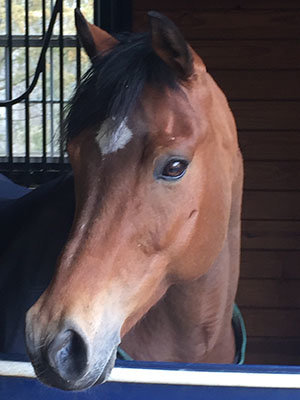 When it came time for Zoey, an 11-year old Welsh pony, to find a new home, the Huber family wanted to explore all the options available and turned to the EQUUS Foundation for advice. Even though a competitive career was still an option, the Hubers thought Zoey might be better suited as a companion, teacher and even a healer and wanted to consider donating her to an equine charity.

"It's important to recognize that there is a great disparity in horse care practices among equine charities," said Lynn Coakley, EQUUS Foundation President. The EQUUS Foundation is known for its unique and rigorous screening process that ensures donor confidence in the equine charities that receive financial support from the EQUUS Foundation each year. "There is no guesswork."
Stabled at the Fairfield County Hunt Club in Westport, Connecticut, it turned out that Zoey's next chapter was just a few steps away. Coakley reached out to nearby EQUUS Foundation Guardian, New Canaan Mounted Troop (NCMT), whose mission is to build leadership, responsibility and confidence in youth through sound horsemanship and to enrich the lives of individuals with special needs through equine assisted activities.

The horses at both Fairfield and New Canaan Mounted Troop are under the care of Fairfield Equine Associates, PC, founded in 1989 with a world-wide reputation as one of the finest equine medical practices in the world, making it very easy to share important health information on Zoey.

Zoey arrived at NCMT in early November 2017 for a 30-day trial. The trial period was to make sure that Zoey would be a fit for the NCMT program and enjoy her new surroundings and new friends. "All of our horses and ponies are donated," said Sara Tucker, NCMT Executive Director. "We could not run our programs without them. Although many ponies and horses may need to step down from the show world, like Zoey, they can continue to lead productive lives and teach children and adults about horsemanship."

"Zoey is a happy ending story. It's very fulfilling and rewarding as a veterinarian to be able to follow a patient throughout their lives and career moves," added Robert T. Neff, VMD, one of Fairfield Equine's owners, and a 1995 Magna Cum Laude graduate of the University of Pennsylvania School of Veterinary Medicine. "I take the health and well-being of the horses and ponies in our care very personally. They are like family to me. They are a very special group of animals and I am honored to be their veterinarian."
"The work of veterinarians like Fairfield Equine Associates is critical to safeguarding America's horses throughout their lives," continued Coakley. "We depend on veterinarians, like those at Fairfield Equine, to help us carry out our mission to protect America's horses and strengthen the bond between horses and people.