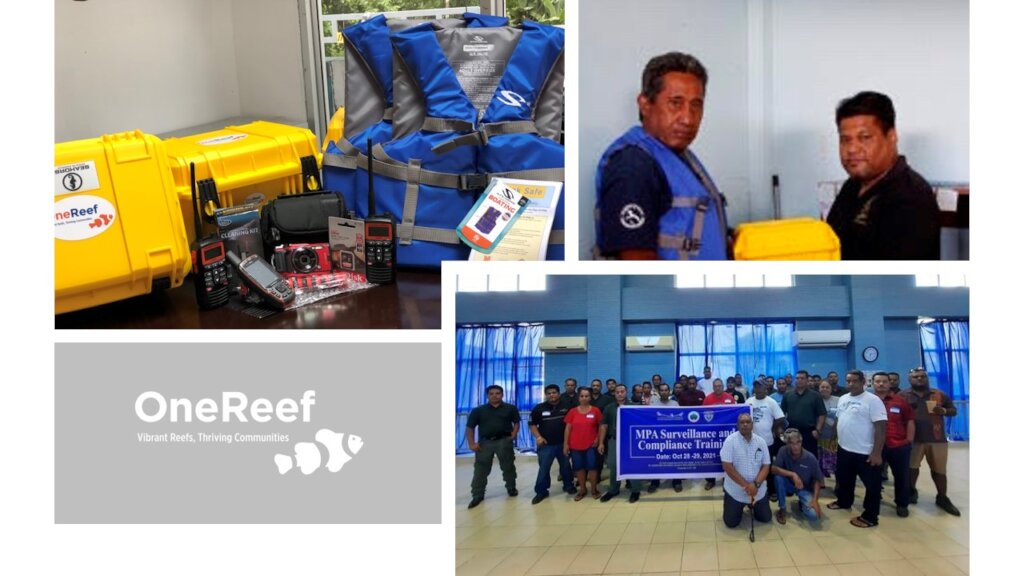 For decades, Community Conservation Officers (CCOs) of Pakin, Nahtik, Sapwitik, Dehpehk/Takaieu, Palikir, and Nanwap have worked tirelessly to monitor illegal activities within their respective Marine Protected Areas (MPAs) without proper equipment.
OneReef equips six partner communities in Pohnpei with basic surveillance kits, including radios, drones, cameras, life vests, and binoculars. This equipment supports our partner communities' monitoring and surveillance efforts in their MPAs.This equipment also provides safety to the CCOs while they are out on the water monitoring and surveilling. In addition, OneReef has donated two boats and two engines to support the Nahtik and Palikir communities' monitoring and surveillance efforts.
In October 2021, the Pohnpei State Division of Fish and Wildlife (DFW), in partnership with OneReef, the Conservation Society of Pohnpei (CSP), and two other organizations, led a two-day compliance and surveillance training in Pohnpei. Key CCOs and Police Officers from five municipalities with active Marine Protected Areas attended the training. During the training, CCOs from OneReef partner communities and municipal Police officers familiarized themselves with Pohnpei's code on its Marine Sanctuary and Wildlife Refuge System. Back in their respective communities, they can train their fellow community officers and enhance communication between surveillance peers. The training is also helping the CCOs better utilize the equipment OneReef has provided them with your donations.
Thanks to your donations,
Our Rangers are using life vests on duty in Ant Atoll and Nanwap. Drones are being used for surveillance by our partners in Nahtik.
Pakin community partners just received their drone and will soon be trained to operate it. They have been using their camera to record CCOs conducting coral reef monitoring.
Our partners in Palikir have been using their cameras to record poachers they encounter in their MPA.
CCOs of Nanwap are using their camera to record their sponge and clam farming activities.
Thank you for being part of the community-led coral reef conservation movement! Our Community Conservation Officers appreciate your support, and so do we!
Links: