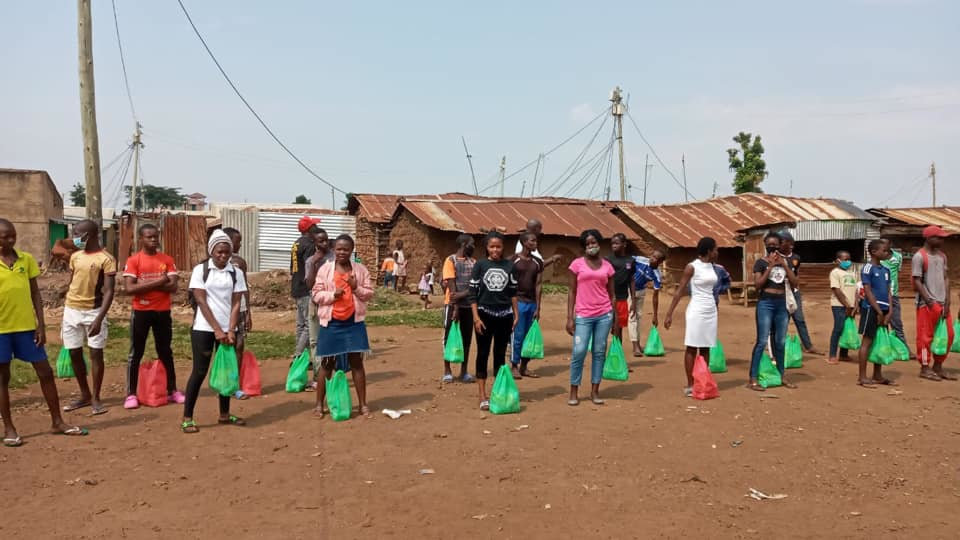 Like much of the world, times continue to be tough at the Manyatta Youth Resource Center (MYRC) due to the global Covid-19 crisis. The work that MYRC does remains as relevant and valuable to its community as before, if not more so now. Though Kenya continues to see low reported infection numbers, the negative pressure on daily life exists nonetheless. Schools have been closed for the remainder of 2020, restaurants and other businesses continue to be restricted, travel between towns and cities is limited, and families are finding it hard to make ends meet. The MYRC is a safe place where youth can find positive activities and, in hard times, get a bite to eat. The MYRC is a resource to its community in more ways than just playing soccer and making music.
During these difficult last few months, the MYRC didn't miss the chance to celebrate its 11th year as a community-based organization in Kisumu, Kenya. To honor this milestone, the MYRC organized packages of food and essentials for families in need. Players and coaches distributed the packages to families of MYRC members but also reached out to their surrounding community in Manyatta. The MYRC has become a pillar of the Manyatta community, and over these last 11 years we have shown that we are committed, ready to lend a hand, and ready to grow and adapt as an organization.
Along with food packages, the MYRC has been organizing assistance in direct response to Covid-19. The MYRC continues to sensitize community members about the importance of keeping hands clean and it has become a source for affordable soap and a site that offers a hand-washing station. A donation from the Blue Cross also allowed us to distribute hand-sanitizer to our entire youth team. Those of us who don't live day-to-day in Manyatta might take for granted the luxury of access to soap and running water, but this service by the MYRC is critical to helping keep the virus numbers low in the slum communities.
Members of the MYRC recently designed t-shirts that they hope to sell at our soccer matches, musical and drama performances, and other events around town as they resume. The shirts will sell for the equivalent of $10. Our organization has really gained recognition since our championship win at the national Chapa Dimba tournament. The new t-shirts will capitalize on that new status while also improving the Manyatta United brand recognition.
Our General Manager Oballah also recently organized support for a community member by getting them a small stall used to sell French fries. They are able to sell plates of fried potatoes for around $0.50 each, and will sell close to 50 plates a day! In the Manyatta community people live on about $1 per day, so a business venture such as this can really be a significant mainstay for someone.
The MYRC looks for ways to provide the community with opportunities to pursue ideas, projects and businesses. Our director of film and media Ramsey has greatly benefited from MYRC support and he continues to build his career in film production through the foundation he built at the MYRC. He has had opportunities to travel and take part in forums with members from around the world, he has been able to produce his mini-series Anita on YouTube, and pursue other projects. Ramsey has also brought together a group of community members who share his dreams. Because the MYRC supported Ramsey's ideas, many other youths also discovered their interest in film and media. From our recording studio, to the stage, to behind a camera, and onto the soccer pitch, the MYRC is allowing youth to follow their interests, build their talents and discover new paths.
Eleven years ago, we decided to call our community-based organization the Manyatta Youth Resource Center because we wanted to be a resource to our community and especially to the youth living in the slums of Kisumu. Today, we continue to live by that vision, and the resources we provide are ever evolving because we base our activities on the interests, needs, and talents of the youth we work with. They develop the projects and put them into action, while the MYRC supports them all the while.
We wouldn't have made it this far without the support of people on GlobalGiving and elsewhere. We thank you so much and ask you to make another donation today so that we are able to provide the Manyatta community with the best support we can during these very difficult times. Thank you!