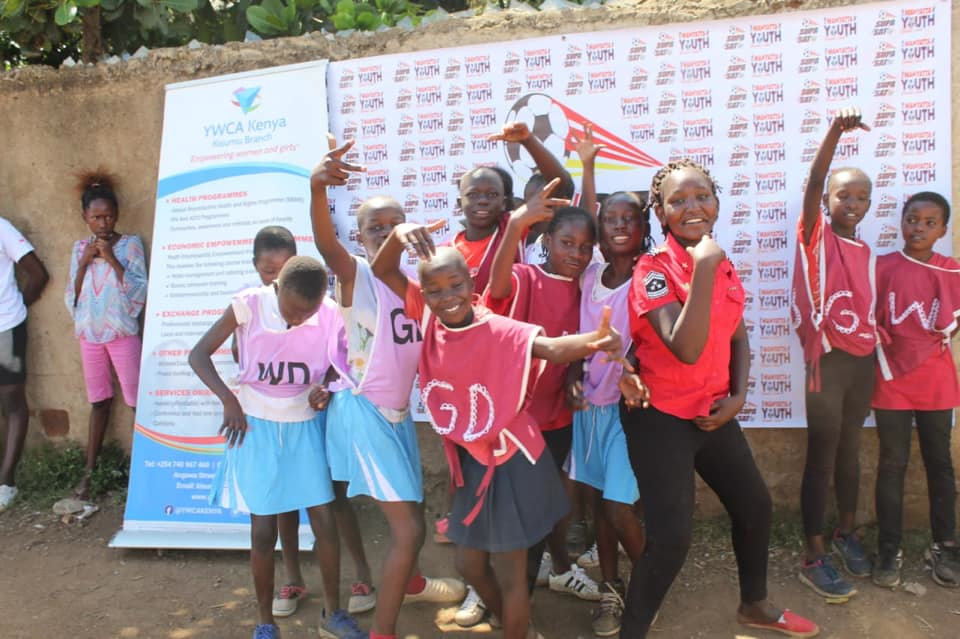 We often focus on the incredible achievements of our soccer teams, but one of the outstanding features of the Manyatta Youth Resource Centre, primarily funded by Equip Manyatta, is the multifaceted nature of the MYRC's programs. Not only do we field soccer programs for girls, boys, and young adults, we provide opportunities in fine arts, drama, video and audio production, bring health information to the community, and provide stipends to make sure our participants can stay in school. Over the decade, these activities have expanded and we find they often work together.
On Saturday, December 14, MYRC hosted a day-long event focused on Gender Based Violence (GBV) in cooperation with the Kisumu YWCA. The day included fun, food, and dance competitions; a girls 5-a-side soccer tournament, netball matches, soccer drills designed around the theme of GBV, performances, an airing of episodes of the Anita mini-series, and a talent showcase.
According to Women for Women International, GBV is violence that is directed at an individual based on their biological sex or gender identity. It includes physical, sexual, verbal, emotional, and psychological abuse, threats, coercion, and economic or educational deprivation, whether occurring in public or private life. The Office of the United Nations High Commissioner for Human Rights (OHCHR) notes that preventing gender-based violence is complicated by the fact that certain forms of it are seen as cultural traditions or expectations in some communities. Forced or early marriage, "honor" based violence, and female genital mutilation are just some examples of such traditions.
Specifically in Kenya, according to the UN AIDS programme, GBV increases the risk of HIV/AIDS by reducing women's bargaining power to negotiate for safer sex. It also prevents women and girls from getting treatment and from staying in school. Coming together with the MYRC community to talk about these realities helps break down the taboos that surround discussions of these sensitive issues and is a starting point for making progress in eliminating Gender Based Violence.
Celebrating the end of 2019, on December 31 our Chairman Oballah took a group of young people to the Budalangi Youth Sports Academy in Port Victoria, which is located to the northwest of Kisumu almost to the border with Uganda, to participate in a tournament. Any time we have the chance to participate in this sort of opportunity, it raises the skill levels for our players, but also costs money for transportation and meals. It is this kind of exposure that has helped our teams succeed at such high levels of play.
As the MYRC and Equip Manyatta traverse our 11th year we thank you for your past support and urge you to continue on this road with us. We have come from being a dream and great hope within the manyatta community and are now a respected, established organization. Your donations and support will keep our programs strong and give our young people opportunities that will serve them for a lifetime. Best regards for the New Year from Kisumu, Kenya, on the shore of Lake Victoria!