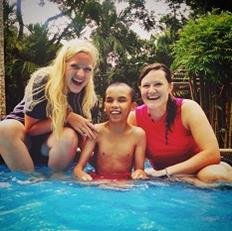 Outing. Classroom. Waterfall.
These are some of Ooi's favorite words, at least on this particular day. "Teacher Kaila, waterfall!" he said over and over as he sat in the shallow end of the pool at a local park. Ooi couldn't see the fountain that was spraying water into the pool, but to him it sounded like a waterfall.
Here are some of the great things about Ooi:
He smiles all the time.

He remembers volunteers by name and knows their voices.

When we sing "You are my Sunshine" in class, Ooi always joins in.

Sometimes when I talk, he giggles like I've just said the funniest thing ever.

He is determined. Learning new things can be a slow process for him, but he works diligently.

When we're on an outing he talks about his classroom. When we're in the classroom, he talks about outings.

My name can be hard to pronounce, but from the beginning Ooi has always gotten it right.
This young man is a lot of fun. He always puts a smile on my face. On a recent outing with the children from the Deaf-Blind Multi-Handicapped program, we all went to the park and spent a couple of hours playing in the pool. I spent a lot of time sitting with Khaw Sheng while he enthusiastically splashed me and talked about waterfalls.
Totally blind and diagnosed with Cerebral Palsy, 16-year-old Ooi is wheelchair-bound. He can't swim around the pool on his own, but that doesn't stop him from enthusiastically enjoying life. He loves field trips, and is always inviting volunteers and visitors to take him on an outing.
Through the DBMH program, Ooi is steadily improving his motor and communication skills. He practices grasping small objects to strengthen his grip, and he is learning to be more conversant. Although Ooi is still growing in cognitive skills, he is friendly and interacts well with visitors. He likes to talk and sing, and has a cheery demeanor.
Thanks to the DBMH program, Ooi has been able to grow, learn, and flourish. He is determined to succeed, and his big smile and infectious laugh bring joy to those who work with him. A big thanks to all the generous donors and supporters who have made it possible for us to continue providing these services to the children!