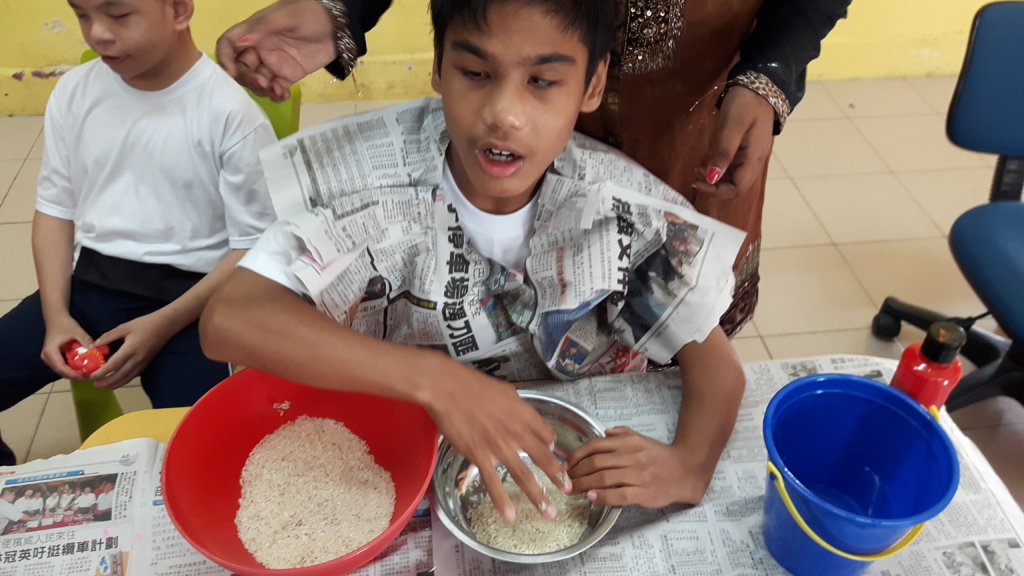 Thirteen-year-old Daniel has suffered from retinopathy of prematurity and total blindness since birth. Also, his left wrist is deformed and both thumbs don't function at all. Having stayed in the Deaf-Blind and Multi-Handicapped Program (DBMH) for more than six years, Daniel has changed a lot. He was originally aggressive and easy to get angry; through the training at St. Nicholas Home, he would no longer attack others and even becomes the most independent student in class. He has learned to wash hands with soap after toilet and before eating, feed himself, wash his own plates, wear shoes and clothes, help teachers turn off lights and fans, close windows, pick up teaching materials and etc. The thumbs problem seems not an obstruction for Daniel.
Daniel is quite an active and brave boy who is filled with curiosity and not afraid of falling down on the ground when first coming to a new environment. With much energy all the time, Daniel always takes the lead of all classmates. While others are walking on the round track, Daniel has started to speed up and go jogging. While everyone is warming up and counting to 5, Daniel has counted to 10. As a fast leaner and doer, Daniel is always the first one arriving at the classroom, toilet, dormitory and dining hall.
In the aspects of communication ability and speech clarity, however, Daniel needs more training. Now when being asked questions, his expression is through being active as well as through sound, touch, or only a couple of words.
In 2016, we made an annual plan for Daniel, who is being trained to recognize braille alphabets K toT, verbalize in more than three words for his needs, walk using a cane, do household tasks and fold clothes.