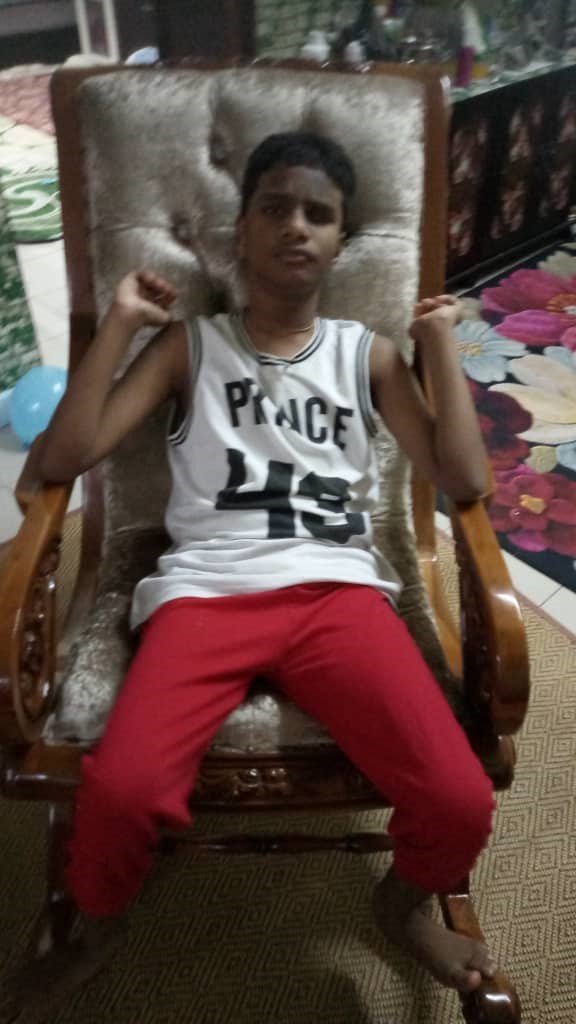 Flash is fifteen year old from Shah Alam, Selangor , is the only child to a single mother. He was born with glaucoma, eye disease that is associated with elevated intracular pressure in which damaged the eye (optic) leading to the loss of vision Besides being blind in both eyes, heis also deaf and mute.
Flashjoined St. Nicholas' Home, Penang in 2013 at the age of eight years old. He couldn't stand nor walk as he has poor balancing and coordination. He depends on hismother to move around and to provide on his basic daily needs such brushing his teeth and bathing. Teachers were struggling at the beginning in teaching him self-care and daily routines independently. Individual education plan (IEP) was designed to cater to his need as well as some physiotherapy sessions for his physical treatmen.
Several techniques are adhere during physiotherapy treatments on good balancing in walking and sitting. The physiotherapy treatments imposed on him are stretching exercises on muscles elasticity and tone up . Teachers also assign exercises that strengthen the lower back muscle which is pelvic tilts, cat stretches, knee-to-chest stretches and bridges.
Gait training exercises lifting legs, sitting down, standing and stepping over objects are included in the treatments.
We train him improving balance increasing coordination and strength, allowing him to move freely and steadily such as balancing exercises and targeting exercises.
Stimulation techniques treatment are included in making the nerve and muscle coordinating well with the physical strength. Although it was a struggle for him initially, but now we see improvement in his coordination – he walks and sits himself. The teachers are providing cognitive skills, motor skills, social communications and daily living skills.
Flash made lots of progression since his arrival in 2013 toSt. Nicholas' Home, Penang. Nowhe stands or sits well. Next, training on mobility with white cane for him to move around and lead independent living in future. We are very thankful and motivated by his mum who takes interest in Flash's personal development and achievement.
We make a living by what we get. We make a life by what we give
"giving is not just about making a donation. It is about making a difference."