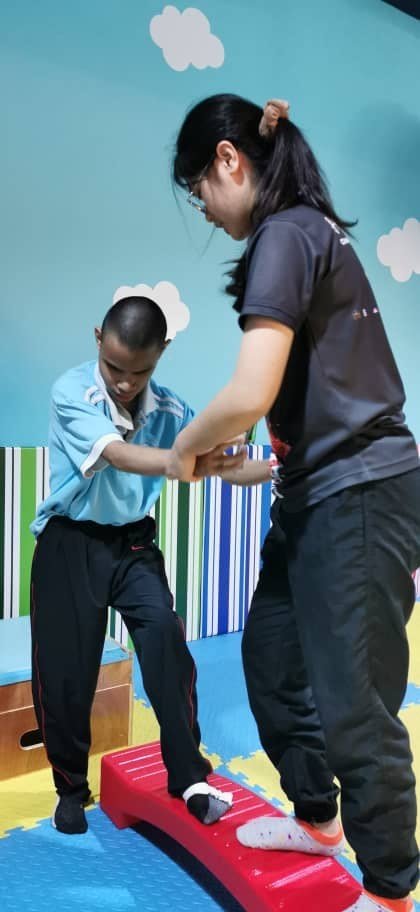 This cute little boy is eighteen year old from Teluk Bahang Penang . He is the eldest boy among his two siblings . His father works at an company . And the mother is a housewife . He was born with a condition known as glaucoma . It is an eye disease that is often associated with elevated intraocular pressure in which damage to the eye (optic) have can lead to loss of vision and even blindness . He was born with no eye ball . Due to his poor condition , he needs assistance to manage his daily routine .
When Benjamin arrived at our St Nicholas Home , He was could not stand and walk with a normal balance and coordination . He was very dependent on the family especially his mother . He also feels insecure and is afraid to walk independently . His mother need to assist him wherever he might go examples of basic daily needs.
In addition , here we are giving several techniques of physiotherapy treatments to make him to walk and sit with a good balance stability . We train him stand up from a seated position without using hands. Or try walking in a line, heel to toe, for a short distance. Can also try tai-chi a form of movement training that may improve balance and stability and reduce the incidence of falls. Good posture cannot be defined by a rigid formula ;it is usually considered to be the natural and comfortable bearing of the body in normal, healthy persons. This means that in a standing position the body is naturally, but not rigidly, straight, and that in a sitting position the back is comfortably straight. We given exercises to strengthen your core , upper back and chest muscles will help correct rounded shoulders. Examples seated rows in a gym or pull-ups and chest stretches.The physiotherapy treatments that we are practicing to her such as stretching exercise for help the muscles elasticity and its tone . We are giving exercises that strengthen the lower back muscle which is pelvic tilts , cat stretches , knee-to-chest stretches and bridges. And also we are giving her Transcutaneous electrical nerve stimulation (TENS) is a method of pain relief involving of a mild electric current .The electrical impulses can reduce the pain signals going to the spinal cord and brain, which may help relieve pain and relax muscles. Also we are giving him resistance band exercises grow her muscles and tone them at the same time.
Gait training exercises lifting legs, sitting down, standing , stepping over objects. Some examples of adaptive equipment include wheelchair and walkers.
We train him improving balance increases coordination and strength allowing you to move freely and steadily examples balance exercises and target exercises.
We train him a back brace is a device designed to limit the motion of the spine in causes of bone fracture or in post-operative spinal fusion , as well as a preventive measure against some progressive conditions or to correct patient posture. Maintaining proper posture throughout the day is key to preventing injuries, reducing neck and back strain, and reducing headaches. Wearing a posture corrector a few hours a day and including posture-specific exercises in your workouts can help you train and strengthen the muscles that support your spine.
Benjamin made lots of progression since at St Nicholas Home . Nowadays , he able to stand or sit with a proper balance and coordination and needs assistance . He is able to walk and sit without any assistance.We plan to train him with using mobility device so that he can lead an independent life in future . We are also very encouraged by his parents who have taken a step forward benjamin development .
We make a living by what we get .We make a life by what we give.
"giving is not just about making a donation.
It is about making a difference."