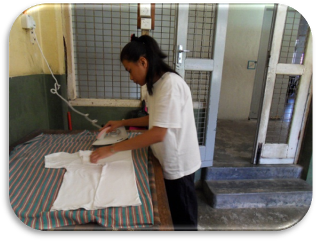 Like every child, Munira is excited about starting work so that she can help her family. However, the difference between her and others is that she is deaf and blind in one eye. Despite her physical disability, the 17-year-old is
optimistic about her future.
Munira wants nothing more than to contribute to the family income and cannot wait to join the workforce next year. She will leave the home in December this year after staying there for the last seven years. Her father is a security guard and her mother is a cleaner.
"I am the eldest in the family. I want to earn money for my two younger brothers to continue studying. I am also excited to go home so that I can take care of my 80-year-old grandmother," she said."
The well-groomed teenager from Relau is like any other girl her age who enjoys dressing up and putting on make
up. With her hair neatly tied up in a bow, she puts on a dash of perfume and happily runs off to class.
Since she was 10, Munira, who loves to draw, has been learning skills her able-bodied counterparts take for granted. Her teacher said Munira was taught vocational skills so that when she leaves St. Nicholas, she would be able to look after herself independently and contribute to her family.
"Hopefully she can work in a hotel, perhaps in the house-keeping department," she said of Munira. "She is a fast learner. She can iron, wash clothes, sew, and do light kitchen work and gardening."
Last year, Munira was taught how to make popsicles. She now can make the ice treats in asam jawa, Milo and orange flavours.
There are many more children like Munira who deserve to have the same chances as she does. With your help this becomes reality. Therefore we would like to thank everyone who makes a contribution to our project.