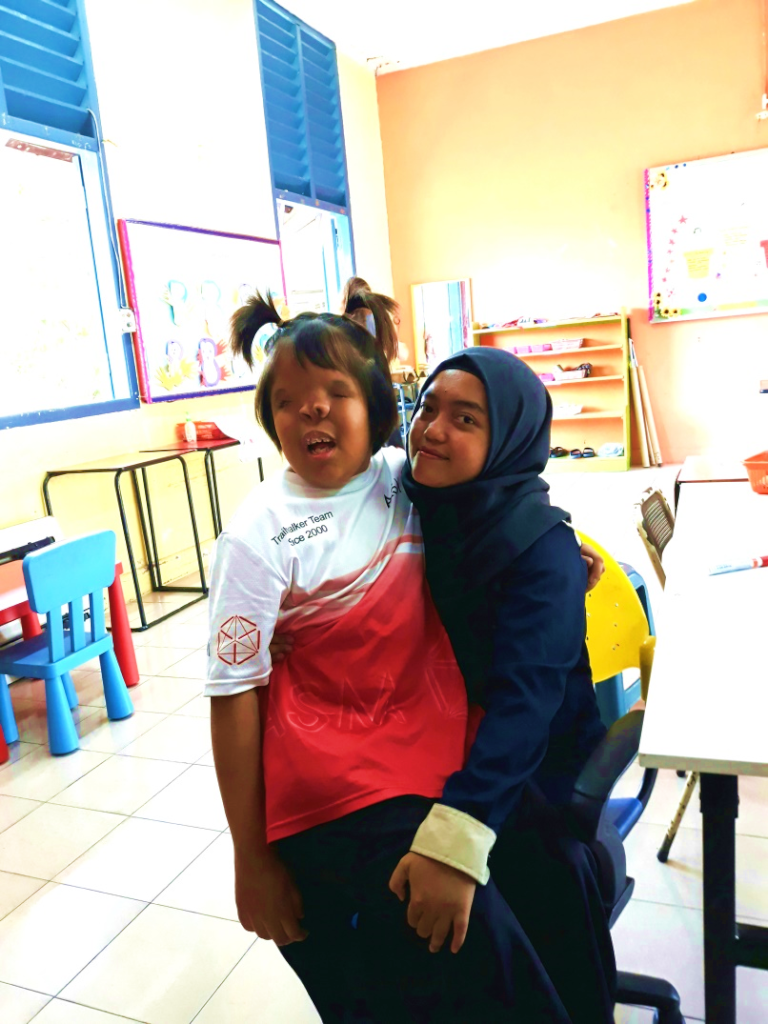 This voluntary project was beyond my expectation. I was given a chance to be a voluntary teacher in Deaf-Blind and Multi Handicapped (DBMH) program in St. Nicholas Home, Penang, Malaysia. During this project, I assisted the children in doing daily routines and taught them basic knowledge in English. Among all children, Siti is the one that I concerned a lot. She was born in April 25th 2001. She is visually impaired, nasal deformed, and having a growth delay. Siti has become a part of St. Nicholas Home since she was eight years old after her grandfather was unable to take care of her anymore. There is no exact news from her parents, as I know, her mother left her and gave her to the grandfather.
At the first time she was sent to St. Nicholas Home, she wasn't able to speak, walk, and even chew her food. She was having a malnutrition and weight loss below average. As the time passed by, St. Nicholas Home provides therapy and education to her until she is able to walk, speak, and eat by herself even though she is still facing difficulties in chewing foods. The teachers have to make sure that the foods are edible enough for her. Normally, we minced and shredded the food first before she eats, so that she can just swallow it easily.
Siti is a lovable and cheerful teenager. She always says greetings to teachers and her friends every morning. She can sing and dance to her favorite songs. She will get really excited when Chicken Dance song is playing. Moreover, she can easily understand basic knowledge such as numbers, name of the months, daily routines, name of the animals, and many more by listening to songs and practicing her tactile sense. Usually, I always ask her to count using English and Malay whenever she plays her 'Egg toys' and she can do it successfully. I'm so proud of her.
As can be seen from her story, we should be grateful of what God has given to us. Despite of her disabilities, she can improve her skills and passion. Her imperfection is not a limitation for her in getting a better future. She always smiles in happiness even though she has a tough life. Her story has become an inspiration for us all to keep doing our best in living our life no matter how hard it can be.