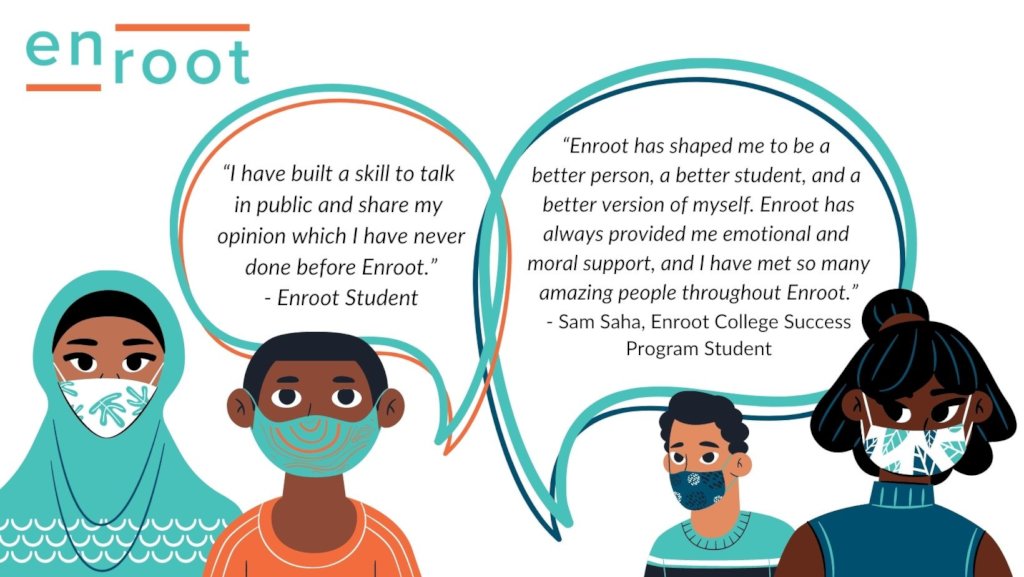 Enroot is a community-based nonprofit with a mission to empower immigrant youth to achieve academic, career, and personal success through inspiring out-of-school experiences. For the past 28 years, Enroot has directed programming for low-income immigrant high school students at Cambridge Rindge and Latin School (CRLS) with program alumni graduating college at more than twice the rate of their peers with demonstrated increases in self-confidence, advocacy, and leadership skills. In 2016 Enroot expanded beyond Cambridge to serve the growing immigrant population at Somerville High School. And in 2018, Enroot launched a College Success Program with the goal of supporting high school graduates of our program in their first two critical years of post-secondary education. 
By providing wrap-around support that tackles the unique challenges facing low-income immigrant students, we narrow the achievement gap between Enroot students and their native-born peers. We do this by supporting students throughout the process of integrating into their school and community and by partnering closely with school staff and municipal departments in both communities. Enroot also receives financial support and in-kind donations of office and programmatic space from school and city partners, enabling the organization to operate effectively within the fabric of the school community.
Enroot's progressive program model spans 4-6 years of a student's high school to college trajectory. We provide a holistic program model taking into account students' academic needs, need for community connection and belonging, as well as their social-emotional needs. We recruit students designated as English Language Learners (ELLs) or Formerly Limited English Proficient (FLEP).
Complementing school day supports with robust after-school programming greatly accelerates our students' pace of language acquisition, enabling them to more quickly transition out of academically segregated departments and ensuring they are given access to the resources to succeed. Our program model is designed to serve students with different levels of English language proficiency with activities and supports appropriate to their level (as measured by their school-designated ELL level, with "ELL 1" being the most basic and "ELL 4" being the most advanced). Students who are just beginning to learn English enroll in the Explore program, which pairs each student with a mentor and provides brief weekly workshops, attended by student and mentor, designed to help students navigate their new community.
Students typically spend one year in the Explore Program before transitioning to the more intense Leadership Program, where students designated as ELL 3 and 4 engage in activities designed to increase access to postsecondary and career opportunities. Students meet with their mentor and on a separate evening meet with their academic tutor. Recognizing that Math is an indicator for students, especially at-risk youth, for achievement gaps and drop out rates, Enroot partnered with Lesley University and introduced math learning circles for students in Somerville. These supplement and enhance students' exposure and perspective about math learning through math games and help students challenge stereotypes about who a mathematician is. The math seminars take place once a month during the school calendar.
In the weekly Leadership Seminars, students explore post-secondary pathways and career interests, gain practical professional skills, and become increasingly engaged in the community. Additionally, students attend field trips to local colleges and universities, visit local workplaces, and hear from immigrant leaders in Somerville. Students have an opportunity during their 6-year relationship with Enroot to experience a professional work experience through a paid professional internship at one of our many internship partners. In addition to the internship experience, Enroot has piloted job shadow experiences during vacation weeks. Enroot students have spent half a day shadowing professionals at companies like TripAdvisor, Google, Akamai, and Broad Institute. We continue to explore and develop similar opportunities with Microsoft, Biogen, and other companies in STEM fields.
Navigating high school, post-secondary preparation and college are full of complexities and decisions that bear long term consequences. This is especially true for our English learner students, many of whom will be first-generation students on college campuses.
All Enroot high school juniors and seniors participate in bi-monthly post-secondary workshops with their mentor to ensure they have the tools and the guidance necessary to make a clear, actionable post-secondary plan. Seniors explore college options, research and apply for financial aid, and plan for the upcoming transition to post-secondary education. Juniors begin preparing for the activities involved in applying to college, such as practicing the SAT's, visiting local universities, and ensuring their academic performance matches their desired postsecondary path. Enroot brings guest speakers from partner organizations including UAspire, Eastern Bank, as well as Somerville High guidance counselors to speak on issues like financial aid, budgeting during the first year, writing a strong scholarship essay, and making a sound acceptance decision. We also invite first-generation current college students and Enroot alums to speak to seniors about their experience transitioning to college and finding support on campus.
We are proud of how many Enroot alumni go on to beat the odds and complete college, but we know we can do even better. That's why in 2018 we introduced an extension of our high school programming to continue serving students during the pivotal transition through their first two years of college. One of the reasons this specific metric matters so much to Enroot is that research demonstrates that college degree holders enjoy, on average, the lifetime earnings potential of $1 million more than those who don't complete college. In addition to being a game changer for the financial stability of their families, this increased earning potential could also represent an important economic contribution to the communities in which they work and reside. Enroot's College Success Program aims to improve college completion rates for first-generation ELL students by continuing to support Enroot high school graduates during their first two years of college. This takes the form of continued 1-1 support with their mentor and frequent 1-1 coaching from Enroot's staff. Enroot will also work to identify professional internship opportunities for College Success students at the offices of corporate sponsors.
All of our programming is traditionally in-person. However, in March of 2020, we committed to providing a multi-faceted virtual support system for students given the COVID-19 public health crisis. We incorporated providing support with the navigation of health, social-emotional needs, housing, technology, and financial resources. We are committed to ensuring students are provided access to English learning, academic support, and post secondary opportunities while continuing to be remote and navigating a new distance-learning environment. Opportunities for internships, job shadowing, office visits and college visits are being offered virtually.
We had the incredible opportunity to host a Virtual Career fair featuring Enroot partners Amgen, Google, First Republic Bank, Bunker Hill Community College, Boys and Girls Club of Boston, Mathematica, City of Somerville Summer Programs, Boston Museum of Science, Cambridge Mayor's Program, and the Rian Immigrant Center! Our students interacted with a panel of professionals who shared their experiences and advice related to the fields of technology, medicine, financial services, sciences and the nonprofit sector. The Virtual Career Fair was a huge success with very active participation from our students. A few important quotes from the Career Fair include:
"Don't stop applying to get the position you want! A lot of it is luck and timing. I applied to my position several times before getting the role!"
"The policy world needs people with different views. Policies impact people's lives and there is so much value in bringing your voice and experience into those settings and speaking for people who may not be able to speak on their own behalf."
Over the past year, we have focused on expanding and advancing our work in the areas of Diversity, Belonging, Inclusion and Equity across our entire Enroot community. Out of a group of hundreds of applicants, Enroot was selected as one of the three organizations to participate in the "Essential Community Practices for Racial Equity Cohort" which will be led by Trinity Boston Connects over the next 6 months. We are excited for this multi-month learning opportunity and consulting engagement, which will include deep exploration and action planning around Racial Equity, Trauma Inclusion, and Restorative Practices. These sessions are coming at a critical time for Enroot and we are so thankful to be in a position to make this important work a priority.
Links: