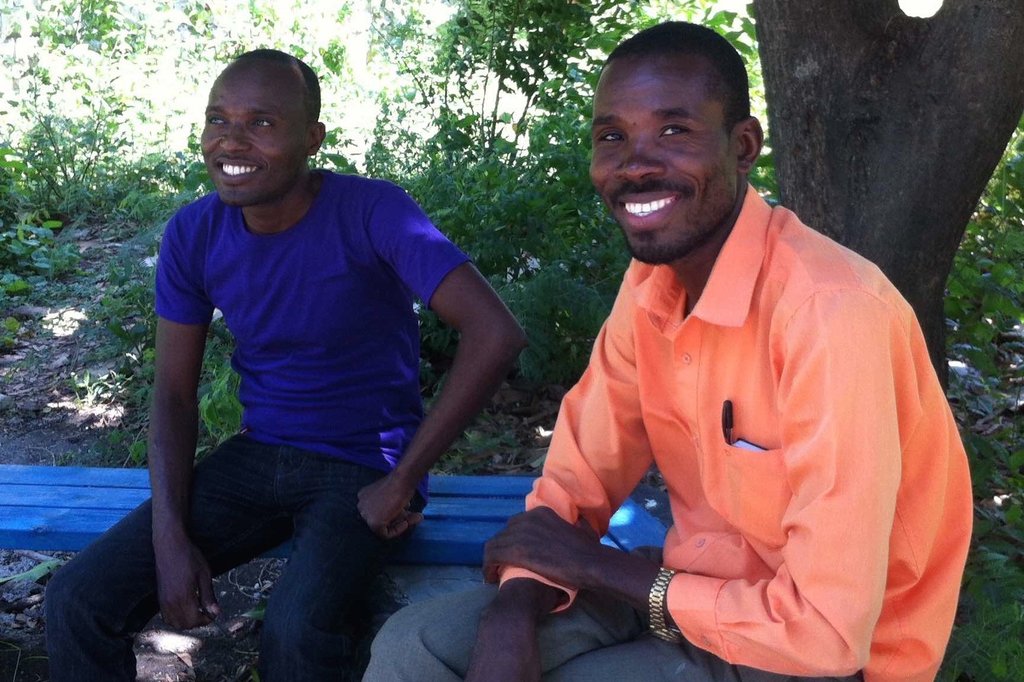 Summer has arrived in Haiti and things are really heating up at the English in Mind (EIM) Institute!
In our January project report we announced that EIM had purchased its own plot of land in Port-au-Prince. We're now delighted to report that work has started with a pro-bono building design team out of Austin.
Last week the architectural design plans were presented for the first time and they're incredible! We want to say a huge thanks to architect Jen Weaver and structural engineer Dante Angelini (and their team) for their amazing solutions. Brunel, Enock and the rest of the EIM staff gave their feedback and we're expecting a full rendering by September.
Meanwhile, before construction begins later next year, EIM students have taken their gardening efforts further by forming a club to make the most of their beautiful new land.
Permaculture expert Taylor Beck and EIM gardening club president Ansly Pierre are now working with twelve volunteers from EIM's student body to plant trees and vegetables, build benches and start a compost system. With four large mango trees on the property the gardening club is already seeing the fruits of its labour!
But there's another big focus this summer too, and that's jobs! We want the EIM Institute to be the number one place to go to hire educated, responsible English-speaking adults in Port-au-Prince.
In the past 2 months alone EIM has secured an incredible 18 new positions for its students. These students are now working as teachers, translators, and English speaking employees at clean water and renewable energy organisations.
EIM itself has also taken on eight further students as leaders for its own international volunteer trips! This deserving bunch will be undergoing intensive training through July and will be partnering with foreign volunteers to lead trips through the fall and into 2016! If you're interested in the idea of joining one of these trips then don't hesitate to get in touch!
If you can't make it to Haiti then please consider supporting EIM by making a donation instead. We always need help with running costs and building EIM its own school will be a huge financial undertaking.
We're not put off by the challenge though and this July 15 GlobalGiving will be making things easier by matching donations to this project by an incredible 50%.
Matching will start at 9am Eastern Time (or 1pm in the UK) and donations up to $1,000 (or £600 in the UK) will be matched per donor while funds remain. So, please consider making a gift on July 15, and please also spread the word about this incredible opportunity.
If you have any questions about how we're using your donation, or would like more information about volunteering at EIM, please don't hesitate to email Andy@IDVolunteers.org. I would be delighted to hear from you.