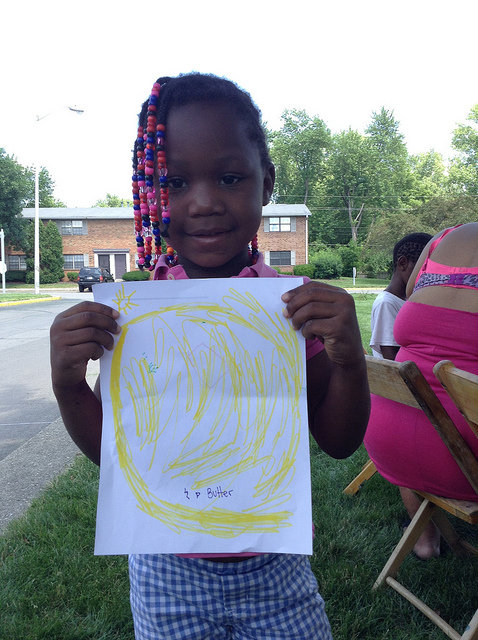 Thanks to support from you and other Big Car sponsors, the people of Indianapolis got a little bit happier this summer!
The season started with Fun Fleet on the Far Eastside. Between June and August, 400 kids joined Big Car teaching artists and the Indianapolis Public Library's Bookmobile to make art, check out books and grab healthy snacks--in five different apartment complexes in the zip code 46235. With support from The Glick Fund, Steve & Livia Russell, and others, the kids in this neighborhood used their creativity to draw their wishes for their own community.
At the Far Eastside Family Fun Day August 24, the Big Car team drew attention to walkability opportunities in the area by painting a temporary crosswalk.
At Dig IN, an artisan food festival in White River State Park, we got the crowd connecting with a conversational sticker badge activity.
Also this summer: we hosted 15 teens for a communications camp at Service Center, welcomed the Nepal Association of Indiana for a traditional dance event, did creative placemaking by building a Brewers' Garden with hops and barley in the Mapleton-Fall Creek neighborhood, and installed a big photo collage at the Indianapolis International Airport, created by kids at Gambold Prep School.
In August, we welcomed TEDxIndianapolis artist-in-residence Florian Rivière. Rivière is an "urban hacker" who sets up games and installations in public places using materials at hand, while inviting all us to claim the right of placemaking in common spaces. (Thanks to the Efroymson Family Fund for its support of Florian's visit from France).
Thanks to your giving, Big Car extends our reach as far as we can--bringing art to people and people to art, transforming lives and communities every day. Your gifts make it happen!