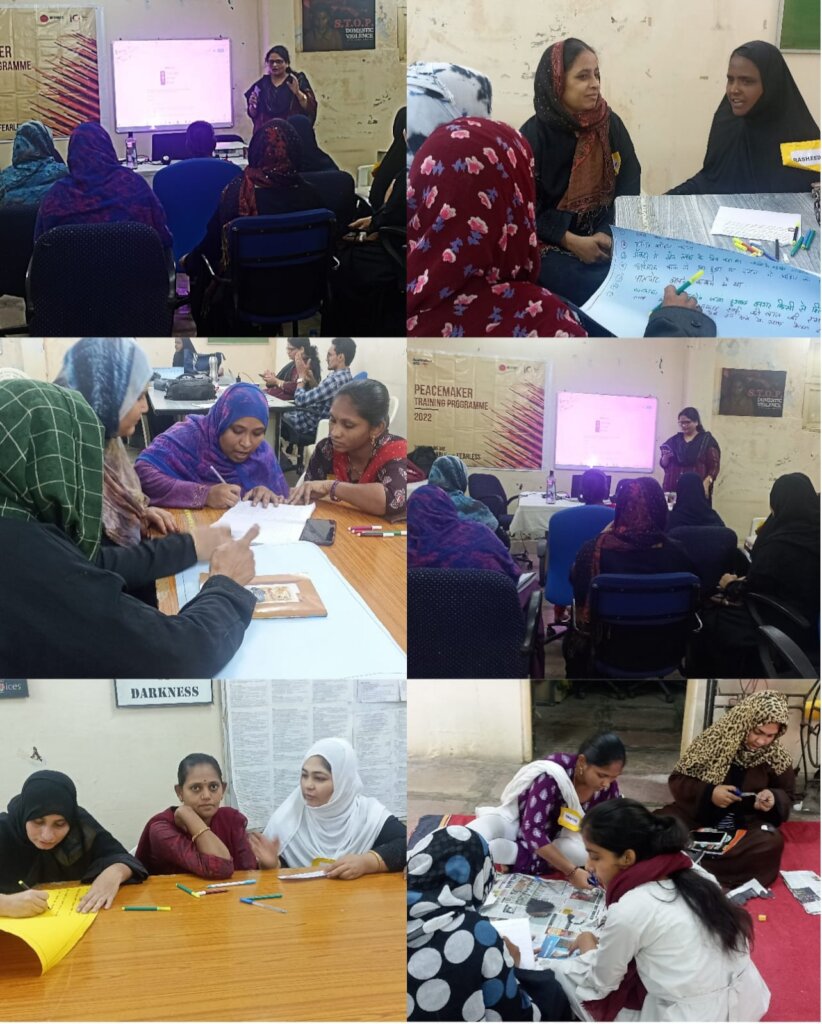 As we reflect on 2022 and all the success that we collectively achieved, and making India a safer space for all women and girls that live in it, it is impossible to do so without recognising our generous supporters that so graciously support our work.
With your generous contributions through the GlobalGiving platform, we were able to conduct various programmes and initiatives covering four pillars and impacted hundreds of women and children to choose lives to live free from abuse, violence, and exploitation.
Your generosity allowed Operation Peacemaker to train 13 PeaceMakers in Hyderabad as part of our 14th batch, a proud moment for us as an organization knowing that we are able to reach so many more lives through these PeaceMakers.
The training was designed to bridge the gap for women going through domestic violence and who find it difficult to share their experience and through our Peacemaker, offer the necessary help. The training focused on understanding the concepts of Gender and Patriarchy and the link between violence and its root cause. PeaceMakers learn the nuances of building trust with the survivors of domestic violence and listening in a non-judgemental manner as well as the laws pertaining to violence against women.
Lastly, they are taught how to create awareness among the communities to build healthy relationships. We are thankful to our supporters that allow Operation Peacemaker to further its impact.
With your support, we are able to support families in need. Please share in the joy of reading the below tstimonet.
The Power of a Helpline!
Sharia* got married at the tender age of 18 years and has been married for an unknown number of years. She has 4 children and her eldest daughter is 15 years old. Her husband is an alcoholic and is abusing the family emotionally, physically, sexually, and economically for a very long time.
This has caused significant difficulties in their relationship and has had a negative impact on Sharia and her children's physical and mental health, personal relationships, quality of life, and safety.
Whenever Sharia tried to speak up, her husband would beat her. As an orphan, she had no one to support her and was thus forced to suffer in silence and was accustomed to suffering on her own. Unable to bear the abuse she ran for her life leaving her children behind. Through a neighbor, she obtained Operation PeaceMaker's helpline number and we listened to her attentively and empathized with her. Through our conversations, we were able to offer her our support and assistance.
While she was away from her children, her husband continued to abuse them and Sharia was extremely distressed. Since speaking to Sharia she has gathered the strength to seek help for her children. She realized the strength within and has the confidence that she can face this difficult situation.
Operation Peacemaker reached out to ChildLine and requested they take up the issue of the abuse of their children. ChildLine intervened and the children have since left their father's house. A case has been filed against the father.
Sharia is currently residing safely in a Safe Home and spending her time on this case and ensuring that she and her children's future is one of safety and peace.
We wouldn't have been able to help Sharia without donors like you. You are the ones who gave Sharia a voice to speak up and a source of strength to find help and a dignified life.
*Name changed
Links: